Allied Vision Releases the Alvium Camera Series to Address Limitations Present in Older Camera Models
Press Release Summary: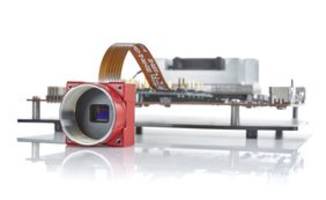 Allied Vision's Alvium Camera Series features MIPI CSI-2 interface, image sensors, and resolutions ranging from VGA to 21 megapixels. The cameras are designed to have cost-optimized designs and power management.
---
Original Press Release:
Allied Vision introduces its first Alvium cameras at VISION 2018
Allied Vision welcomes visitors to the world's leading machine vision trade fair at the Stuttgart Exhibition Center from November 6th to 8th (Hall 1, Booth D30) with the slogan "Rethink embedded vision" and a clear focus on industrial embedded vision. The first models of the new Alvium Camera Series, which is presented to the VISION audience for the first time, take center stage at Allied Vision's booth.
Unique System-on-chip for industrial embedded vision
The Allied Vision Alvium Camera Series is an innovative camera platform that addresses the limitations associated with current camera modules for embedded applications and offers system designers a previously unknown level of freedom. Powered by the revolutionary ALVIUM® Technology, a unique System-on-chip designed by Allied Vision, the camera series delivers industrial performance to embedded vision. With a large selection of current sensors, intelligent power management and cost-optimized design, the new camera series combines the advantages of classic machine vision cameras with the advantages of embedded sensor modules.
The Alvium 1500 Series – Embedded vision made easy
The Alvium 1500 Series is the perfect camera to provide easy hardware and software integration for embedded applications. All models come with a MIPI CSI-2 interfacewhich is the most popular interface for embedded vision application development. The Alvium 1500 provides a basic feature set. The software integration can be realized via Video4Linux2 or GStreamer for a simple integration of the camera to the software environment of the embedded system. The configuration of image pre-processing functionalities can be performed directly on the Image Signal Processor in the camera. Depending on the demand of the embedded designers, a Direct Register Access is available to get the full control of the camera.
The Alvium 1800 Series – Best of both worlds
Following both MIPI CSI-2 and USB3 Vision standards, the 1800 Series can be used for either industrial embedded vision or machine vision applications. With an advanced feature set for image correction and optimization, the camera series combines the advantages of classic machine vision cameras with the advantages of embedded sensor modules. It opens up new ways for users to switch from PC-based image processing applications to embedded systems. Designers can choose out of more image pre-processing and advanced image processing functionalities for their embedded vision application, which can be operated directly on the camera. In addition to Video4Linux2 (V4L2) and Direct Register Access the camera control is feasible via the Machine Vision Standard GenICam, providing access to the world of Industrial Machine Vision for embedded vision designers.
Easy integration 
The ALVIUM® SoC supports all common sensor interfaces and is designed for a wide selection of current and future image sensors with resolutions from VGA to 21 megapixels. A single driver covers all sensor variants of the camera series. With minimal development effort, different cameras with different sensors can be tested, different resolution variants of a system can be developed, or existing systems can be converted to new sensors. This not only saves developers time, but also significantly reduces their development costs. 
In close partnerships, Allied Vision develops and provides driver support for a range of embedded boards, such as NXP i.MX 6/8-based boards and the Nvidia Jetson boards, for Alvium cameras. 
The launch of the Alvium series will initially support the NXP i.MX6 and Nvidia Jetson platforms. Later, support will be extended to i.MX8 and i.MX8M. Allied Vision will be one of the first camera manufacturers in the world to offer a camera driver for the new Nvidia Jetson AGX Xavier, thanks to a partnership with Antmicro, a Polish embedded technology specialist.
More from Architectural & Civil Engineering Products