ALL-TEST Pro wins Show Stopper Award at NECA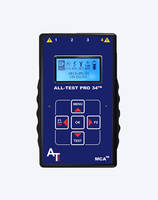 ALL-TEST Pro's NEW AT34™ took home a Show Stopper award at the NECA show in Las Vegas.
These awards highlight the newest products and services on the market. Over 153 products were submitted, but only 25 are awarded the prize.  A panel of expert judges determine the winners on a variety of factors.
For more information on the ALL-TEST PRO 34™ please visit https://alltestpro.com/motor-testing-products/deenergized/all-test-pro-34/.
About ALL-TEST Pro, LLC
ALL-TEST Pro, LLC (ATP) manufactures handheld, portable instruments for the testing of electric motors, generators, transformers and other coil-based devices. ATP's De-Energized testing (Motor Circuit Analysis-MCA™), Energized testing (Electrical Signature Analysis-ESA) and Power Quality Analysis instruments provide predictive maintenance testing, quality control and troubleshooting for a low initial investment and rapid ROI.