All-Terrain Grape Harvesters optimize winegrowing operations.
Press Release Summary: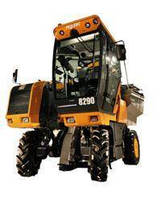 Available in 9 models, 8000 Series is equipped with 100-173 hp electronic injection John Deere engines, which are compliant with anti-pollution standards. Power Control regulates speed and controls power distribution between tooling use and carrier motion, while Permanent Integral Transmission on 4 autonomous wheels, driven by electronically controlled hydrostatic pump, prevents skidding. Made of single-frame structure, cabin includes multiple-position seat and touch-sensitive controls.
---
Original Press Release:

Pellenc Releases New All-Terrain Grape Harvester for Vineyards



Pellenc is launching its 8000 Range, intended to improve winegrowers' working conditions and grape harvesting in general. It boasts a new motorization, a cabin with reworked ergonomics and design, as well as a control panel featuring all of the latest functionalities. Already available for the next harvesting season, it will be introduced in nine models during SITEVI 2009, the vine & wine and fruit & vegetable sectors' international trade show held from December 1 to 3 in Montpellier, France, at booth 12 A 049.

Compliant with new anti-pollution standards, its common-rail electronic injection John Deere engines (Tier III, 4 by 4,525cc and 6 by 6,788cc turbo cylinders), ranging from 100 to 173 HP, provide power and easy handling. The heavy-duty, double-size Poclain wheel motors, paired with optimal load-spreading between forward and rear axles, ensure optimal motivity. At the same time, the Power Control (developed by Pellenc) regulates speed and controls power distribution between tooling use and carrier motion. The Permanent Integral Transmission (TPI, a Pellenc patent) on four autonomous wheels, driven by a new electronically controlled hydrostatic pump, prevents all skidding at any speed, in forward or reverse, in bends or at row ends.

The cabin is made of a single-frame structure and features: an ergonomic driver's area that includes a multiple-position seat incorporating the new joystick and its backlit, touch-sensitive controls, a control box with guidance and height indicators for proper positioning within the row, a safety inclinometer, side-shift correction and ground tracking. The steering wheel is smaller to improve seating. The arm-rests and console are one piece, facilitating in-factory install of a mobile phone or PDA holder close to the console. This new cockpit also features a hardcopy-display board, a file holder and a cup holder. Visibility and driving have not been forgotten. The new headlights, fully concealed within the cabin roof and spoiler, as well as the leg and cargo bed lights, are powerful (all standard equipment) and help perform night-time work in optimal conditions. Lastly, a guardrail at the rear and a handle provide easy access.

The 8000 series carrier may be equipped with a video kit (a control screen and 2 color cameras located front and back of the carrier or of the harvest front), which makes for easy maneuvering including at night, for instance when dumping the onboard bins, entering a row or reversing at row ends. In multifunctional mode, the arm position indicator helps assess the working height at a glance. Lastly, in the interests of safety, a glass-breaking mallet is set within easy reach.

For more information, please contact:

PELLENC AMERICA Inc.

Marc Paisnel

Chief Executive Officer

3171 Guerneville Road

Santa Rosa, CA - 95401

Tel.: (707) 568 7286

E-mail: marc.paisnel@pellencus.com

Web: pellencus.com

PELLENC SA

Flore Bougrier

Export Marketing Assistant

Route de Cavaillon - BP 47

84122 Pertuis Cedex - France

Tel.: +33 4 90 09 45 49

Fax: +33 4 90 09 47 48

E-mail: f.bougrier@pellenc.com

More from Test & Measurement