All-Terrain Crane provides max tip height of 370 ft.
Press Release Summary: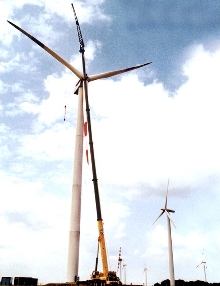 The GMK6250-L 250-ton crane is powered by 525 hp Cummins N14-525E engine driving through 5-speed Allison CLT755 automatic transmission and 2-speed transfer case. Boom extends from 51 to 236 ft. Hydraulic power-luffing, bi-fold swingaway extension is standard and adds 43 to 72 ft to main boom. It is off-settable from 5 to 40°. MEGATRAK(TM) all wheel steer and all wheel suspension provide maneuverability for highway travel speeds up to 48 mph.
---
Original Press Release:

Grove GMK6250-L Gains Even More Height


The Grove GMK6250-L all terrain crane introduced earlier this year now features an even longer boom and now provides a maximum tip height of 370 ft. (113 m). The additional increase in the lifting range to this 250 ton (220 tonne) crane adds even more
versatility and job capabilities to this machine.

The full power boom extends from 51 to 236 ft. (15.5-72 m) and provides a tip height of 246 ft. (75 m). The GMK6250-L features Grove's advanced MEGAFORM(TM) boom, TWIN-LOCK(TM) single cylinder extension and locking system, and the proven ECOS (Electronic Crane Operating System) and EKS-4 electronic load-monitoring
system utilized on other GMK all terrain cranes.

The hydraulic power-luffing, bi-fold swingaway extension is standard and adds 43 to 72 ft. (13-22 m) to the main boom. This extension is hydraulically offsettable from 5° to 40° and provides additional operational flexibility with its full load power luffing capability.

The range is further increased with the addition of two 26 ft. (8 m) inserts for a total of 52 ft. (16 m) additional extension. This provides a total boom length of 361 ft. (110 m) with a total tip height of 370 ft. (113 m), the longest boom/jib combination in the 250 ton class. A standard tilting superstructure cab facilitates operation at high lift heights.

The GMK6250-L utilizes the familiar Grove all terrain six axle arrangement with 12x6x12 drive configuration. The exclusive Grove MEGATRAK(TM) all wheel steer and all wheel suspension provide exceptional maneuvering capability, excellent off-road
operation and smooth riding characteristics for highway travel at speeds up to 48 mph (77 km/h). It is powered by a 525 hp (392 kW) Cummins N14-525E engine driving through a five speed Allison CLT755 fully automatic transmission and two speed transfer case.
The superstructure engine is a 165 hp (123 kW) Cummins six cylinder 6BTA5.9-C.

The Grove self-loading counterweight provides a variety of counterweight combinations up to 154,300 lbs. (70 tonnes). The entire rear outrigger box is removable to reduce highway roading weight.

Grove has an unsurpassed North American and International presence with distribution in more than 125 countries on six continents plus industry-leading manufacturing and product development facilities and partners in North America, Europe
and Asia. Grove products are marketed as Grove' Crane, National Crane, and Grove Manlift® aerial work platforms. Grove, P.O. Box 21, Shady Grove, PA 17256-0021 USA. Tel: 717.597.8121, Fax: 717.597.4062, www.groveworldwide.com

More from Printing & Duplicating Equipment