All-in-One Computer suits hospital point-of-care applications.
Press Release Summary: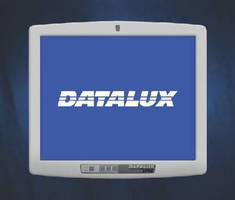 Combining Intel Atom processor and 19 in. LCD in single sealed enclosure, medical-grade IPIX e-Series can be used as stand-alone PC or operated as virtual desktop in client-server environment. Front panel features IP65 protection rating, and all molded plastic parts contain antimicrobial additive. System can also be sprayed and wiped clean with hospital disinfectants. Operating without fans or cooling, computer includes 5 USB ports, RS-232, and Gigabit Ethernet.
---
Original Press Release:

Availability of Datalux IPIX e-Series Announced



'Energy efficient, medical-grade, economical all-in-one computer'

Orlando, Fla., -- Datalux Corporation announced the availability of its IPIX e-Series medical-grade, all-in-one computers. Designed for use in hospital point-of-care applications and for integration into other medical equipment, the affordably priced IPIX e-Series is energy efficient, resulting in low power consumption, particularly when mounted on battery-powered equipment such as patient care carts. Company officials announced the availability of the new IPIX e-Series today at the Healthcare Information and Management Systems Society (HIMSS) 2011 conference and exhibition in Orlando.

A completely sealed, integrated all-in-one computer, the IPIX e-Series encompasses an Intel Atom processor and 19" display in a single enclosure. The IPIX e-Series is a flexible device that can be used as a stand alone PC or operated as a virtual desktop in a client-server environment.

Patented Datalux technology channels heat away from critical internal components allowing the IPIX e-Series to efficiently operate without fans for cooling, eliminating the need for vents which can collect and transport germs. Its front panel is designed to the IP-65 level of protection against ingress of moisture and dust.

"A key feature of our e-Series that is shared with all our healthcare products is an innovative design that helps combat the serious threat of bacterial infections spreading throughout hospitals. The IPIX e-Series can be sprayed and wiped clean with hospital disinfectants," said Gary Davis, Datalux corporate director of sales and marketing. "The e-Series is designed and tested to the IP-65 standard to ensure our IPIX e-Series will resist moisture."

All molded plastic parts contain an antimicrobial additive that releases silver ions when bacteria contact the surface of the computer. These ions interact with the bacteria to prevent it from spreading, multiplying or surviving.

The Intel Atom processor and a super-efficient 19" LCD display combine to make the Datalux IPIX e-Series the most energy-efficient, sealed all-in-one available today. The IPIX e-Series fully supports Windows 7 Professional and is also available with Ubuntu Linux.

Other features of the IPIX e-Series include five (5) USB ports, RS-232, integrated stereo speakers, Gigabit Ethernet and an optional built-in camera and microphone. Wireless connectivity can be added with an optional internal 802.11 a/b/g/n card and optional Bluetooth. The 160GB SATA hard disk drive is shock mounted and removable.

An optional internal Lithium ion battery can provide back-up power in locations such as hallways or patient rooms where a UPS system might be inconvenient to install. The battery also allows other power supplies, such as external battery systems on mobile carts, to be changed without shutting down the computer.

Designed to be compliant with IEC-60601-1 - an international standard certifying the product is safe for use in patient care environments; the mobile, energy-efficient IPIX computer uses an industry standard VESA mount, allowing it to easily be mounted on a mobile cart or wall mount. IEC testing is currently in process and should be completed in March.

Proudly made in America, the IPIX e-Series was designed and is being built and supported at Datalux Corporation's headquarters and manufacturing plant in Winchester, Virginia. The e-Series is backed with a standard 3-year, return-to-factory warranty. Datalux also offers optional support programs including warranty extensions up to 5 years, Top Flight support (providing an overnight spare) and the Freedom Protection plan to protect against unintentional damage.

About Datalux

Headquartered in Winchester, Va., Datalux Corporation designs and manufactures Space Saver compact keyboards, industrial LCD displays and compact, durable computers. Datalux TRACER and IPIX brand all-in-one computers are designed for settings with limited space and significant mobility requirements. They offer considerable value and energy efficiency without sacrificing the computing power of conventional computers. Tooling, plastic injection molding, PC board (PCB) layout and final assembly all are executed at the Datalux Winchester, Va., headquarters. The company's core competence lies in its ability to design and package computer systems to meet unique computing requirements. For more information please visit www.datalux.com.


Related