All-Electric Cylinders are suited for robotic spot-welding.
Press Release Summary: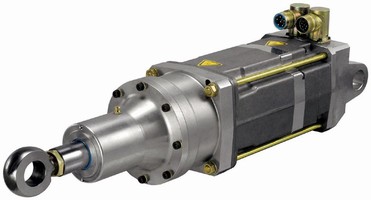 Offering plug-and-play solution, electromechanical cylinders (EMC) deliver motion, speed, force, and position needed to enable spot-welding systems to achieve optimum number of welds with reproducible quality. Products integrate into robotic gun assemblies, utilizing technology based on planetary roller screw and servo drive. Available with range of options and accessories, cylinders can be customized to satisfy particular system needs. Compact versions (CEMC) are also available.
---
Original Press Release:
SKF Electromechanical Cylinders Ideal for Robotic Spot-Welding Applications
SKF® electromechanical cylinders (EMC) offer "plug-and-play" solutions ideally suited for robotic spot-welding gun applications. These all-electric cylinders provide practical alternatives to traditional technologies by performing with the power of hydraulics and the velocity of pneumatics in a cost-effective and highly integrated package. Compact versions (CEMC) further allow for up to 50% space savings. The cylinders deliver precise motion, speed, force, and position to enable a spot-welding system to achieve an optimum number of welds quickly, reliably, cleanly, economically, and with reproducible quality. Applications extend to the automotive, appliance, and metalworking industries, among others. The cylinders integrate easily into robotic gun assemblies; require less space; eliminate complex infrastructure, such as hoses and valves and compressed air or hydraulic oil; simplify monitoring and diagnostics; minimize maintenance; produce considerably less noise; offer more control, longer life, and high duty cycles; and promote "green" operations. They benefit from patented technology based on a planetary roller screw and servo drive. The roller screw works in combination with a nut to drive the stroke and efficiently converts rotary motion into linear movement with a quick response time and lower energy consumption. EMC and CEMC solutions for spot-welding applications are available with a wide range of options and accessories and can be customized to satisfy particular system needs. Contact Kyle G. Fedorcha, SKF USA Inc., 1530 Valley Center Parkway, Bethlehem, PA 18017-2266. Phone: 800-541-3624 (toll-free) or 610-861-3709. Fax: 610-861-3737. Email: skfusainfo@skf.com Web site: www.linearmotion.skf.com (SKF® is a registered trademark of SKF USA Inc.)
More from Fluid & Gas Flow Equipment