All-Air Web Guides Perfect for Mark Andy Presses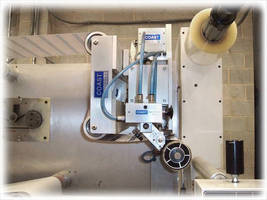 Coast Controls All-Air web guides are ready-made for Mark Andy narrow web presses and effective at decreasing downtime and maintenance costs

(Sarasota, FL.) - Coast Controls offers standard web guide models to fit many Mark Andy narrow web presses. RDG5 and MDG5 all-air web guide models easily fit in tight or limited spaces of Mark Andy 2200, 4120 and 4150 narrow web presses. All-air systems are powered entirely by low-pressure plant air (3 to 6 psi), simplifying installation with no electronic wiring needed. Mark Andy web press customers have reported significant decreases in maintenance time after switching to all-air web guides from electronic guides. A powerful two-stage air filter removes water and contaminants from supply air lines. All-air web guides can also be customized to fit any narrow web press. All models are backed by a 10-year warranty.

Coast Controls was established in 1992 by William and Douglas Fife, both pioneers of the web guiding industry. Now owned by Thomas E. Marks, also a veteran of the converting industry, Coast Controls manufacturers the world's only all-air automated web guiding systems at its corporate headquarters in Sarasota, Florida. Coast Controls also designs and builds a complete line of intermediate steering and displacement guides and shifting roll stands for unwind/rewind guiding. These air-powered web guide systems are renowned for ease of installation, simplicity of operation, and affordability. Today, Coast Controls web guides are sold and marketed to printers, packagers and converters and related machinery OEMs worldwide.

More from Thermal & Heating Equipment