Alignment System offers portable measurement capabilities.
Press Release Summary: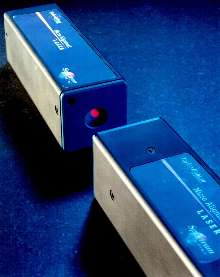 Portable laser based alignment system, Micro Alignment Laser, measures alignment, straightness, flatness, parallelism, perpendicularity, and more. With measurement ranges up to 20 x 20 mm and accuracies of 5 microns up to a distance of 10 m, it consists of highly stable laser transmitter, high-precision position sensitive device (PSD) receiver with electronic processing system, and software for use on laptop, notebook, or desktop PC.
---
Original Press Release:

Micro Alignment Laser System


Taylor Hobson, a leader in the field of optical alignment instruments, has launched a new laser based alignment system which has the advantage of complete portability.

The new Micro Alignment Laser is equipped with the latest optical and electronic components for precise measuring of alignment, straightness, flatness, parallelism, perpendicularity and much more.

With measurement ranges up to 20x20mm and accuracies in the region of 5 microns up to a distance of 10m, the system is has varied applications including:

* Dynamic checking of assembled machine slideways for straightness and squareness
* Parallelism measurements and adjustment of tracks and guides
* Monitoring of movement, deformation and deflection of structures

The system consists of a highly stable laser transmitter with integrated micro-adjustment for fine alignment of the laser beam, a high-precision position sensitive device (PSD) receiver with a complete electronic processing system and software for use on a laptop, notebook or desktop PC.

The Micro Alignment Laser can be run entirely from batteries and has a cableless radio link, making it suitable for use in a variety of locations and automatic applications. The software provides a digital output with clear graphical output and report writing facilities.

For additional information contact:

Paul Schmidt
800-872-7265
Center of Excellence (USA)
pnschmidt@csi.com
taylor-hobson .com

2100 Golf Road o Rolling Meadows, IL 60008 o Ph: 800-872-7265 o Fx: 847-290-1430

More from Test & Measurement