Aktina Showcased Latest Advancements for Cancer Treatment Accuracy and Patient Immobilization at ASTRO 2018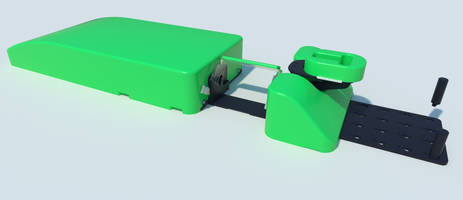 Congers, NY (November 6, 2018)  Aktina Medical, the industry's primary source for radiation oncology needs, leveraged its participation at the ASTRO show's 60th Annual Meeting by showcasing the company's latest advancements for improved radiosurgery accuracy, and patient immobilization and comfort. Featured Aktina solutions on display at ASTRO 2018 included its SenoView prone breast system, SpiroCheck Duo® quality assurance system; Electronically Interlocking Small Field Circular Cones, and the Memorial Cradle 2 immobilization system for body radiosurgery.
"Our participation in ASTRO 2018 was rewarded as our solutions for improved radiosurgery accuracy, and patient immobilization and comfort were extremely well received by attendees, said Nicholas G. Zacharopulos, COO, Aktina Medical. "Aktina was established years ago from within the radiosurgery community to innovate practical and cost-effective solutions for longstanding challenges faced by radiosurgery providers. And we have sustained this approach in developing new and innovative solutions to this day, as we will moving forward."
Aktina Medical showcased the following solutions at ASTRO 2018:
The Aktina SenoView prone breast system solves many of the current problems with standard prone breast boards. The unique patented design orients the patient in a semi-decubitus position resting on an adjustable sternal bridge, allowing the treatment field edges to be viewed and marked for both the medial and lateral fields. SenoView delivers a significant advantage over standard prone breast boards, where the medial field cannot be visualized on the patient's skin for field edge marking and verification.
SpiroCheck Duo® quality assurance system for Active Breathing Coordinator (ABC) is accurate to within 1.25%, ensuring precise readings and performance in critical radiotherapy planning and treatment. A Restriction of Hazardous Substances Directive (RoHS) compliant device, SpiroCheck Duo completes a full calibration of the ABC'€s spirometry and balloon valve in less than two minutes to help minimize downtime.
Aktina's Electronically Interlocking Small Field Circular Cones ensure accurate radiation dosage by eliminating human error. The patented system of lead based interlocking cones with stainless steel sleeves to prevent lead contact feature carved channels and grooves that match corresponding channels and grooves carved into the applicator. As each cone is inserted into the applicator, they depress (or don't depress) specific switches and confirm that they are the proper size cone for the programmed dosage. The control software, which has been integrated with the cones and applicator, compares the installed cone with the programmed plan and confirms they match before proceeding. The system also comes with a quality assurance cone that depresses every switch and tests them to assure functionality, ensuring that any installed cones will be recognized and confirmed accurately.
Also displayed at ASTRO 2018 was Aktina's Memorial Cradle 2 immobilization system for body radiosurgery, which provides a unique method for patient immobilization. Originally co-developed between Aktina Medical and Memorial Sloan Kettering Cancer Center, the system utilizes side pressure on the patient to achieve superior immobilization and patient comfort. This unique modular approach allows for excellent flexibility in SBRT positioning with direct index to table crossbar and paddle sets.
For more information on Aktina Medical's extensive line of products, call toll free at 888-433-3380, email info@aktina.com or visit www.aktina.com.
More from Cleaning Products & Equipment