AKG and Horton Combine Technologies to Introduce an Optimized Cooling System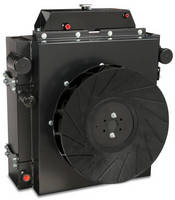 System includes AKG's Deep-Core Heat Exchangers and Horton's WindMaster® Revolution Fan

MEBANE, N.C. - AKG has teamed up with Horton to introduce a combined-technology, advanced cooling system. This improved cooling solution incorporates Horton's WindMaster® Revolution High-Efficiency, Hybrid-Flow Fan with AKG's Aluminum Bar-Plate Deep-Core Heat Exchanger Technology.

The AKG/WindMaster Revolution System offers lower total cost, the ability to eliminate remote-mounted coolers, higher overall efficiency for fuel savings, lower operating noise, greater heat transfer capabilities, and easier maintenance with a single-plane cooling solution. This cooling solution has a standardized package design with a bar-plate construction that makes customized systems for multiple applications. The system fits in a smaller space and emits significantly lower fan noise, while drawing less horsepower for greater efficiency.

As part of the system, the WindMaster Revolution® High-Efficiency, Hybrid-Flow Fan is optimized to move air more efficiently around the engine and through the under-hood compartment. This provides the highest efficiency of cooling available with the lowest operating noise. The fan is available in two sizes: a 550-mm nylon 6 version and a 750-mm welded-aluminum version.

Durably constructed, the lineup of AKG Aluminum Bar-Plate Deep-Core Heat Exchangers offers space efficiency, lower installation costs, consistent quality and high performance.

"This innovative technology makes the AKG/WindMaster Revolution Cooling System an ideal airflow solution to meet the intense demands of EPA 10, Euro VI and Tier 4 engines," says Rob Countiss, manager of engineering and marketing at AKG. "AKG and Horton can provide a customized package with low to no tooling costs to meet OEM-specific applications. The new system is flexible enough to be designed around a traditional engine-driven fan or can be packaged with a hydraulic motor."

With 60 years of industry experience, commitment to service, reliability and innovation, Horton is a premium worldwide provider of fan drives, fans and suspension products. Horton's comprehensive research and development processes are driven by a dedication to exceed industry requirements today and in the future. The company has manufacturing plants in the United States and Germany, with licensed manufacturing facilities in Australia and the United Kingdom; offices in the United States, Canada, Mexico and Germany; and representatives in Brazil, Russia, South Korea, China and Australia. Horton products include VMaster® and Stratis® Viscous Fan Drives, VMaster Di and Stratis Di Viscous Fan Drives and Controllers, DM Advantage(TM) On/Off and Two-Speed Fan Drives, Arctis® Two-Speed Fan Drives, WindMaster® Revolution High-Efficiency/Hybrid-Flow Fans, WindMaster Fans, WindShift(TM) Modular Fans, Shogun(TM) Modular Fans, Electromagnetic On/Off Fan Drives, DriveMaster® Spring-Engaged Fan Drives, Klondike Series® Replacement Fan Clutches for the Kysor® K26RA as well as repair kits for Kysor's K26RA, K22RA and K22FA, PolarForce® Two-Speed Conversion Kits, DM Advantage(TM) Conversion Super Kits, Genuine Horton repair kits, remanufactured fan drives and Roller Bushing Suspension Products.

AKG provides innovative solutions to meet the demands of Tier 4 engine installations in limited-space applications. The company's product lines include deep-core radiators, charged air coolers, and transmission and hydraulic oil coolers to provide maximum heat transfer, while requiring minimal face area. AKG specializes in custom-designed solutions for the construction, forestry, agriculture, on-highway, compressor, industrial and mining markets. A division of AKG Group based in Hofgeismar, Germany, AKG of America, Inc. is located in Mebane, N.C.

Horton, Inc.
2565 Walnut Street
Roseville, MN 55113
1.800.621.1320
+1 651.361.6400
info@hortonww.com
http://www.hortonww.com

Kysor is a registered trademark of BorgWarner.

Related