AJ-PX270 P2 HD Camcorder Supports 3G/4G/LTE Wireless Mobility
Press Release Summary: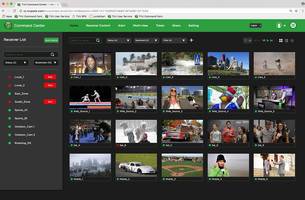 The integration of AJ-PX270 P2 HD Camcorder and the TVU Transceivers allows streaming from camera to transceivers through cellular, WiFi or ethernet connection. The AJ-PX270 sends camera IP video stream, thumbnail and status to the command center. Using the TVU Command Center interface the P2 camera can be triggered, monitored and managed. AJ-PX270 is embedded with a unique network ID for communicating to Transceiver at the command center.
---
Original Press Release:
NAB 2018: Panasonic and TVU Networks Announce New Camera/IP Management and Delivery Integration
Panasonic P2 Camcorders Communicate with TVU Transceivers and TVU Grid, and Panasonic PTZ Cameras Paired with TVU Vista for Streaming and Remote Control
With a new integration of Panasonic cameras, TVU Networks, the global technology and innovation leader in live IP video solutions, and Panasonic further their technology collaboration with the introduction of two new video solutions. With these new product integrations, TVU welcomes Panasonic to the TVU ecosystem and TVU Grid featuring IP video switching, routing and distribution. The Panasonic/TVU integrations will be on display in two locations at the Central Hall of the Las Vegas Convention Center during the NAB Show from April 9-12. During the show, Panasonic will exhibit in Booth C3607, and TVU Networks will be in Booth C1707.
"Panasonic has always been a leader in video acquisition, and we're thrilled to showcase its P2 cameras working seamlessly with our IP-based management and distribution technology at NAB this year," said Paul Shen, CEO, TVU Networks. "It's a prime example of creating an easier workflow for our customers, and we're eager for them to see how easy and powerful the Panasonic/TVU combination is for them. No matter their location, they can acquire and transmit live, low-latency, HD video over IP, and distribute the video with TVU Grid to multiple outlets. In addition, the integration provides an entry into the TVU Grid ecosystem and a part of the largest global video distribution network with over 2500 broadcast stations."
The Panasonic AJ-PX270 is a handheld HD camcorder that combines the high quality and efficiency of low bit rate AVC-ULTRA recording and the flexibility of a 3G/4G/LTE wireless mobility. The integration between Panasonic AJ-PX270 P2 cameras and TVU Transceivers enables streaming from a P2 camera directly to a TVU Transceiver via cellular, WiFi or ethernet connection.
"We're excited to expand our collaboration with TVU Networks to further accelerate remote production workflows and increase quality and efficiency," explained Delix Joseph T. Alex, product manager, of PTZ Camera & IP Networking Systems at Panasonic. "The new integrations allow for centralization of AVC-ULTRA P2 cameras along-side AW Series PTZ cameras for a very elegant and scalable network video production system, all configurable from anywhere in the world connected to the internet."
Each Panasonic camera has a unique network ID that communicates to the TVU Transceiver or TVU Command Center, a cloud-based management and control system. The camera provides an IP video stream, thumbnail and status to the Transceiver or Command Center. In addition, a live stream from the Panasonic P2 camera can be triggered, monitored and managed on the TVU Transceiver or TVU Command Center interface. Received P2 streams can then be distributed to other locations via TVU Grid. Grid is a scalable IP-based video switching, routing and distribution solution that enables broadcasters to acquire live video from different sources for distribution to other Grid-enabled locations. It is also possible to utilize P2 camera sources with the suite of functions available on the TVU Transceiver or the TVU Cloud service including IP streaming output (direct to Facebook Live, Periscope and other social media services), TVU Producer Pro, TVU Booking Service and more.
In a separate integration between the two companies, Panasonic's pan/tilt/zoom (PTZ) cameras such as the AW-HE130 can also be paired with TVU Vista, a routing device which provides for the streaming, management and control of IP-based PTZ cameras from remote locations. Ideal for fixed camera deployment such as traffic cameras and beauty shot cameras, Vista aggregates multiple IP connections simultaneously for high bandwidth such as cellular, WiFi, Ethernet, satellite and other IP connections. It also uses TVU's patented Inverse Statmux + (IS+) technology for stable and resilient transmission over the public Internet.
TVU Vista allows the Panasonic PTZ camera to stream directly from the field back to the studio for decoding and processing using a TVU Transceiver. Once received at the TVU Transceiver, the PTZ camera stream can be distributed via TVU Grid to other locations or streamed to the web using the camera's IP streaming output or used as a source for Cloud production or Social Media using TVU Producer Pro. Remote camera control for pan, tilt and zoom can easily be done back in the studio using the camera's own control interface.
TVU Networks has over 2,500 customers in more than 85 countries. The TVU Networks family of IP transmission and live production solutions gives broadcasters and organizations a powerful and reliable workflow to distribute live video content to broadcast, online and mobile platforms. TVU has become a critical part of the operations of many major media companies. The TVU Networks suite of solutions has been used to acquire, transmit, produce, manage and distribute professional-quality live IP HD footage as an integral part of news, sports and major global events. For more information about TVU Networks solutions, please visit www.tvunetworks.com.
About TVU Networks®
TVU Networks® is a technology and market leader in IP-based live video solutions. TVU's solutions help transform broadcasters' SDI-based operations - which include acquisition, transmission, routing, distribution and management - to an IP-based infrastructure. TVU® serves customers of all sizes in more than 85 countries from industries that include news broadcast, web streaming, law enforcement, sports, corporate and government. In broadcast markets around the world including the USA, China and other major economic powers, TVU® is the dominant market leader with a large majority of all news broadcast stations using its IP video solutions. Using its proprietary IS+ technology, TVU's uplink solutions use any combination of cellular, satellite, microwave, WiFi and Ethernet IP connections to deliver live HD video from practically any location.
About Panasonic Media Entertainment Company
Panasonic Media Entertainment Company specializes in creating technology solutions for the entertainment, integrated resorts, sports, and professional AV markets including house of worship, education, broadcast and cinema. The company's customized systems and technologies incorporate high-performance projectors and professional displays; large screen LED video displays; broadcast, cinema and pro video equipment; professional audio systems, and energy-saving lighting equipment. A division of Panasonic Corporation of North America, Panasonic Media Entertainment Company is based in Newark, NJ, with offices in Denver, CO; Los Angeles, CA; Orlando, FL; and Coppell, TX. For more information about Panasonic professional video products, visit www.panasonic.com/broadcast or contact Panasonic at 877-803-8492.
About Panasonic Corporation of North America
Newark, NJ-based Panasonic Corporation of North America is a leading technology partner to businesses, government agencies and consumers across the region. The company is the principal North American subsidiary of Osaka, Japan-based Panasonic Corporation, and leverages its strengths in immersive entertainment, sustainable energy, automated supply chains and connected mobility to provide integrated solutions for B2B customers. Panasonic was featured in Fortune Magazine's 2016 ranking of 50 companies that are changing the world and doing well by doing good. Specifically cited were its smart and sustainable technologies, including its contributions to smart cities and the electric vehicle revolution. Learn more about Panasonic's ideas and innovations at www.PanasonicMovesUs.com.