Global Positioning Systems (GPS)
AIS Collision Avoidance System promotes boating safety.
Press Release Summary: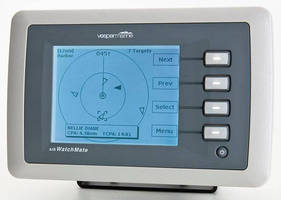 Leveraging its parallel 2-channel Automatic Identification System (AIS) receiver, AISWatchMate® RX alerts boaters to potentially dangerous crossing situations. Standalone solution, supplied in flush-mount casing with 5 in., daylight-viewable grayscale LCD screen, delivers information needed to interpret potential hazards and react accordingly. Also capable of tracking other friends on water, unit receives on both AIS frequencies simultaneously from all broadcasting vessels in range.
---
Original Press Release:

Vesper Marine Debuts the Next Generation of Its Award-Winning AIS Collision Avoidance System



Safety Products Leader Introduces First Standalone Dedicated AIS Display with Internal Two-Channel Receiver

Auckland, New Zealand. - Vesper Marine, a leading manufacturer of innovative marine safety products, announced today its next-generation, all-in-one dedicated collision avoidance display, the AISWatchMate® RX. Building on the success of its award-winning AISWatchMate that can be used with any external receiver or transponder, the AISWatchMate RX is the only standalone safety display system on the market with an internal parallel two-channel Automatic Identification System (AIS) receiver, providing unequalled sensitivity for identifying targets at greater range. Feature-rich, affordable and easy-to-use, the AISWatchMate RX proactively alerts boaters of potentially dangerous crossing situations to improve safety and provide a more worry-free, on-the-water experience.

Designed to equip boaters with the ultimate in collision avoidance peace of mind, the AISWatchMate RX delivers the timely and easy-to-process information boaters need to interpret potential hazards, and react accordingly. The device displays class A and class B vessel position; voyage data; navigation aids; AIS safety messages; meteorological and hydrographical information, where available including real-time wind, current and tidal data; and is capable of tracking other friends on the water. Building on the AISWatchMate's unique filtering process that eliminates screen clutter and false alarms, the AISWatchMate RX includes additional filtering capable of removing non-converging vessels and employs a powerful proprietary target prioritization algorithm allowing it to plot crossing situations and clearly illustrate target vessels that pose the greatest collision risk. Once identified, the system automatically displays crucial target information for potentially dangerous vessels including name and call sign to aid in rapid inter-vessel communication. Selectable boating profiles allow users to easily switch between pre-defined filter and alarm settings, without complicated set up, to best meet their current situational needs including: in harbor, near shore and offshore. In addition, the AISWatchMate RX displays GPS navigational data including course, speed, heading and satellite status, expanding the device's functionality as a second-station GPS display at the helm or anywhere else throughout a vessel where critical information is required.

"Our AISWatchMate RX is an exciting addition to our AISWatchMate product line, offering a sophisticated collision avoidance system in a simple and easy to install package," said Jeff Robbins, co-founder, Vesper Marine. "Gone are the days of complex set up and concerns over proper operation. By eliminating the need for a separate black box receiver, users simply plug in a VHF antenna and connect the unit to a GPS device and they're up and running. Whether making passage or simply spending the day in a busy harbor or coastal area, boaters can enjoy their time on the water with the knowledge that the AISWatchMate RX is always on watch!"

The AISWatchMate RX receives on both AIS frequencies simultaneously from all broadcasting vessels in range, and has a reception sensitivity of -115 dBm. Housed in a flush mountable casing that is 8.9-inches wide, 5.3-inches high and 3-inches deep, the device boasts an uncluttered, easy-to-read 5-inch daylight viewable grayscale LCD (320x240 pixel) screen with adjustable backlighting. A straightforward user interface allows all display features to be controlled via four clearly-labeled, backlit buttons for easy access during both day and nighttime use. Minimizing energy consumption, the low-power system features a 10-32 VDC power supply and uses less than 3-watts of power. The AISWatchMate RX has an operating temperature range of 32- to 158-degrees Fahrenheit, is waterproof to the IP67 standard and protected by a one-year limited warranty.

Pricing and Availability:
The Vesper Marine AISWatchMate RX has a suggested retail price of US $700, and can be purchased from authorized Vesper Marine dealers and distributors throughout the United States and Canada. For more information on the AISWatchMate RX, the award-winning AISWatchMate, or to learn more about Vesper Marine and its entire product line, please visit vespermarine.com.

About Vesper Marine:
Based in Auckland, New Zealand, privately held Vesper Marine is a global provider of marine safety products. Committed to rigorous R&D and innovation, the company designs and manufacturers affordable practical electronic solutions that enhance boating safety and save lives in potentially dangerous marine situations. vespermarine.com

About the AISWatchMate:
The AISWatchMate by Vesper Marine is an award-winning Automatic Identification System (AIS) collision avoidance instrument system designed for recreational and light commercial vessels. Easy to use, the AISWatchMate is a dedicated safety solution delivering 24 x 7 on-the-water vigilance of potentially dangerous situations. The marine electronics system enhances awareness, improves safety and offers greater peace of mind for a more efficient and secure boating experience.

More from Communication Systems & Equipment