AirLoc Die Inverting Tiles Provide Cost Effective Protection for Tooling & Floors!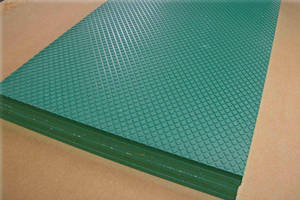 Die inverting tiles are frequently used to protect tooling and floors where large, heavy stamping or forming dies are inverted for maintenance (see picture below). They provide cushioning for the die shoes and prevent damage to concrete floors during the inverting process. AirLoc designed die inverting tile systems are available, as shown below, using high stiffness (95 durometer), fiber reinforced neoprene pads, stacked to index the desired floor level. The tiles have a raised diamond pattern on the top and bottom surfaces so they can be easily cleaned and turned over for re-use when the top exposed surface becomes worn. The cost of a tile system can easily be justified by saving on the wear and tear of dies and floor repairs.

AirLoc manufactures a wide range of elastomeric and vinyl pads for vibration and shock isolation, damping, and leveling of all types of equipment. Let AirLoc help provide a cost effective, quality pad solution for your application.

AirLoc Die Turnover Tile System
For more information regarding AirLoc Pads, or Leveling Mounts, contact our headquarters in Franklin, MA or your regional AirLoc Representative.

More from Electronic Components & Devices