Airflow Sensor provides digital TTL output.
Press Release Summary: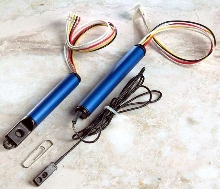 Utilizing thermistor technology, AccuSense F900 measures airflow temperature and velocity from 30-200 fpm to 30-2,000 fpm, depending on calibration. Product, resistant to mechanical shock and vibration, is available with temperature compensation settings of ±5% of reading from 10-35°C and ±10% of reading from 10-60°C. With supply voltage of 7-13 Vdc, series has linear 0-4 V output or digital output for direct control of airflow environment.
---
Original Press Release:

AccuSense F900 Airflow Sensor Provides Digital Output and Wide Temperature Compensation


Milford, N.H. - January 7, 2005

Degree Controls,Inc. (degreeC), a leading designer of airflow and thermal solutions is pleased to announce the AccuSense F900 Airflow Sensor. This new F900 sensor measures the velocity and temperature of airflows in applications such as biological safety cabinets, fume hoods, electronic enclosures, cleanrooms and other critical containment areas. The F900 is the only OEM airflow sensor available offering a digital TTL output for direct control of your airflow environment.

With a normal sensing airflow range from 0.15-2 m/s (30-200 fpm) up to 0.15-10 m/s (30-2000 fpm), depending on the calibration, the F900 Series offers unparalleled price to performance, compact size, reliability and resistance to mechanical shock and vibration. Various temperature compensation settings are available, including +/- 5% of reading from 10-35oC and +/-10% of reading from 10-60oC.

With a supply voltage of 7-13 VDC, the F900 Series has a linear 0-4V output or a digital TTL output. Based on AccuSense's proven thermistor technology, the F900 retains its calibration over time and can be easily installed as part of a control loop to precisely manage your airflow. The F900 is priced at $95 for 1,000 pieces in the standard format.

A variety of sensor head styles are also available, ranging from the standard X" long tube to the sensor head remotely mounted on a long cable for installation in tight locations.

DegreeC is a private ISO 9001 registered company founded in 1997 specializing in solving thermal and airflow issues in telecommunications, electronics equipment, medical equipment and critical containment enclosures. The company employs about 70 people and has facilities in New Hampshire, India, and Japan. DegreeC offers thermal testing, analysis, and design services, precision airflow instruments and sensors, and volume assembly of proprietary thermal management controllers, intelligent fan trays, and custom high performance heat sinks - now available both as custom-designed and standard solutions.

More from Machinery & Machining Tools