Air Relay Pressure Switch features snap-action mechanism.
Press Release Summary: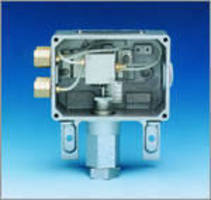 Snap action pneumatic switch, BETA Air Relay, features deadband of as low as 10 mbar and supports pilot supply and signal pressures up to 7.0 bar. It is available in as TYPE SA for Normally Closed operation and TYPE SB for Normally Open operation. Designed for valve control, bleed-off shut-down, or alarm applications, both offshore and on, product can also be safely used in hazardous areas, including Zone 0 (no spark) applications.
---
Original Press Release:
K-TEK Announces High Accuracy, Snap-Action, Air Relay Pressure Switches from BETA
Prairieville, LA (February 23, 2009) - K-TEK, a leading manufacturer of state-of-the-art instrumentation for level, pressure, and temperature measurement, has announced the BETA Air Relay, a new, pilot-operated, snap action pneumatic switch from BETA N.V. The switch features a patented, snap-action mechanism that does away with problems associated with throttling bands. Unlike other pilot-operated vent valves, the Air Relay can be fine-tuned for accurate increasing or decreasing action. The switch features a narrow deadband, as low as 10 mbar, and supports pilot supply and signal pressures up to 7.0 bar. Designed for valve control, bleed-off shut-down, or alarm applications - both offshore and on - the BETA Air Relay can also be safely used in hazardous areas, including Zone 0 (no spark) applications. The switch is available in two configurations: TYPE SA for Normally Closed (N.C.) operation and TYPE SB for Normally Open (N.O.) operation. Unique Switch Design "A high quality, self-aligning diaphragm/piston sensor is at the heart of the BETA Air Relay switch," stated Winston Landymore, BETA Product Manager at K-TEK. "Limited piston travel translates pressure at the diaphragm directly to actuation of the microswitch. This means no intervening linkages or mechanisms, and full protection against high overrange pressures up to 400 bar." The BETA Air Relay's piston sensor is isolated from the process fluid by a diaphragm and static O-ring seal, retained by a process connection port. These process wetted parts are available in a wide range of materials, eliminating the need for costly chemical seals. Process connections are available in 316 stainless steel, Monel, and aluminum. Diaphragm and O-ring material choices include Buna-N, EPR, Kalrez, neoprene, Teflon, 316 stainless steel, tantalum, Viton A, and Monel. A venting port avoids overpressure in the enclosure. The BETA Air Relay has been certified by KEMA for use in potentially explosive atmospheres. Price & Availability
The BETA Air Relay is available for shipment. Prices start at $365. The data sheet can be viewed at www.telesian.com/marketing/vpr/ktek/ktek022309-ds.pdf. About BETA B.V.
BETA B.V. (The Netherlands), a K-TEK company, specializes in the design and manufacturing of a broad range of pressure and temperature switches. With more than 35 years experience, the company has developed a reputation for its "user-friendly generation" of pressure and temperature switches. BETA's innovative product range includes: Pressure Switches, Fluid Power Pressure Switches, Vacuum Switches, Differential Pressure Switches including a unique bi-directional DP switch, Temperature Switches, and OEM Switches such as the BETAMINI which has been developed exclusively for the industrial OEM market. All BETA switches are assembled according to customer specific requirements and are available in more than 1 million versions. BETA currently has European, Russian, and Far East product approvals and is currently pursuing FM and CSA approvals for all switch product lines. BETA is an ISO 9001-2000 certified company and serves all industries with specialization in the oil & gas and petrochemical markets. About K-TEK Corp.
K-TEK is a leading manufacturer of state-of-the-art liquid and solids level instrumentation. Founded in 1975, the company pioneered the KM26 magnetic level gauge with extruded outlets and precision engineered floats. The company continues to set the pace in the industry with such innovations as AccuTrak, the first SIL 2 certified (IEC 61508) magnetostrictive level transmitter; SureShot, the first low cost, all digital design laser level and distance transmitter; Resonator, the first vibrating fork switch that features a one-step, external calibration process, eliminating hassles with equipment covers; and MT5000, the industry's first guided wave radar level transmitter with full waveform digital readout and display. The company also manufactures ultrasonic transmitters, RF capacitance switches & transmitters, and a full line of point level switches and field controllers. K-TEK's products are used in over 300,000 installations worldwide in such applications as chemical processing, oil and gas production, power generation, pulp and paper processing, mining and construction, pharmaceutical manufacturing, and plastics manufacturing. K-TEK provides level solutions anywhere and anytime, supported by a network of global manufacturing facilities and technical application expertise in Baton Rouge, Houston, Netherlands, India, China, and South Africa. For more information, visit www.ktekcorp.com. For more information contact: Kevin Hambrice, Director of Marketing & Customer Service, 8321 Swamp Road, Prairieville, LA 70769 USA +1 225.673.6100, Fax: +1 225.673.2525 khambrice@ktekcorp.com Web: www.ktekcorp.com
More from Electronic Components & Devices