Position Sensors / Detectors / Transducers
Air-Push Type Contact Sensor offers flexible communication.
Press Release Summary: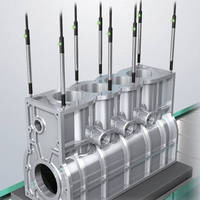 Supplied in IP-67G enclosure, GT2-P has spindle that can be actuated by compressed air and eliminates need for complex mounting jigs. Scale Shot System, combining conventional scale and transformer methods, enables accuracy of 1 µm throughout entire range while maintaining absolute positioning. Designed for extended use, even in harsh environments, sensor employs extended-life linear ball bearings that lend to detecting durability of up to 100 million cycles.
---
Original Press Release:

NEW! Pencil-Type Contact Sensor



Itasca, IL –



Product Overview

KEYENCE CORPORATION OF AMERICA is excited to introduce the GT2-P, the newest edition to the high-precision GT2 Series of contact sensors. KEYENCE is well known for providing the industrial automation industry with innovative and long-lasting solutions – and the GT2-P is no exception. The GT2-P features High Accuracy Measurement, a Tough & Rugged Design, and Flexible Communication Options all combined into a body the size of a pencil.



High Accuracy

The GT2-P uses KEYENCE'S own Scale Shot System in order to achieve the highest accuracy in its class. The Scale Shot System combines both the conventional scale and transformer methods in order to achieve high accuracy throughout its entire range while also maintaining absolute positioning. The GT2-P achieves an accuracy of 1 µm, or 0.04 thou.



Tough & Rugged

The GT2-P was designed for extended use, even in harsh environments, which other contact sensors would not be able to withstand. Thanks to the innovative use of long-lasting linear ball bearings, the GT2-P has a detecting durability up to 100 million cycles, all while maintaining an IP-67G enclosure rating. This means the GT2-P is not only resistant to water, but to oils as well, greatly expanding its versatility.



Flexible Communication

Multi-sensor applications can easily be set up thanks to flexible amplifier and communication lineups. Up to 5 GT2-P heads can be connected to a single amplifier, while up to 3 amplifiers can be connected to create a system of 15 cooperating heads. Communication units can then be used to send data over RS-232, Ethernet/IP, Profinet, Profibus, and DeviceNet, among other various communication protocols.



NEW Model!

KEYENCE is also proud to announce that the GT2-P Series now includes a new model – the GT2-P air-push type. This model is similar to the standard model, except it has a spindle which can be actuated by compressed air while maintaining the same high accuracy of the standard models. This is convenient for eliminating complex mounting jigs, which can be expensive and introduce variations in accuracy into a system.



For GT2-P Series Specifications and Application Examples please visit:  https://www.keyence.com/PRGT2P.



For further product information:

Keyence Corporation of America

1100 N Arlington Heights Rd

Suite 210

Itasca, IL 60143

Tel: 888-539-3623

Fax: 201-930-1883

Email: marketing@keyence.com



KEYENCE has steadily grown since 1974 to become an innovative leader in the development and manufacturing of automation equipment worldwide. Our products consist of automation sensors, static eliminators, barcode readers, measuring instruments, vision systems, laser markers, and digital microscopes.

More from Agricultural & Farming Products