Air Products to Supply Largest Glass and Construction Material Manufacturer in South Korea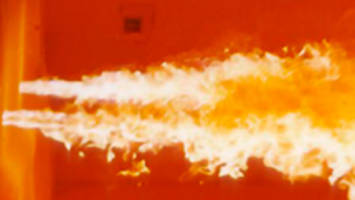 Integrated Solution Encompasses Long-term Oxygen Supply and Oxy-fuel Combustion Equipment
LEHIGH VALLEY, Pa., Sept. 17, 2018 /PRNewswire/ -- Air Products (NYSE: APD) today announced it has been awarded oxygen and oxy-fuel combustion equipment supply by KCC Corporation, the largest glass and construction material manufacturer in South Korea, for the new glass fiber production line at its Sejong site. The new production line is scheduled to come on-stream in 2019.
Air Products will provide its integrated solution encompassing long-term gaseous oxygen and oxy-fuel combustion equipment, including its state-of-the-art Cleanfire® burner, to support KCC's production of glass fiber used in electric vehicles and lightweight automobiles. The company also will install a PRISM® vacuum swing adsorption (VSA) oxygen generator for reliable, economical and environmentally-friendly on-site gas supply.
"We have been supplying different offerings to KCC's various production lines, including the Sejong site. It is our honor to have their continued confidence in our oxy-fuel combustion technology and integrated solution to support their growth plans," said Kyo-Yung Kim, president of Air Products Korea. "Air Products has enabled a long list of glass makers worldwide to become more productive, energy efficient and sustainable. Leveraging our vast experience, we are committed to working with our customers in Korea to build a greener country together."
Air Products has over 50 years of experience in oxy-fuel technology and has already installed more than 1,500 Cleanfire burners around the world. The technology is proven to bring multiple benefits such as over 80% reduction in nitrogen oxide emissions, 10-35% in energy savings, about 25% increase in productivity, reduction of capital, and improvement in efficiency and glass quality. For more information, visit www.airproducts.com/glass.
KCC Corporation, established in 1958, is the largest glass and construction material manufacturer in South Korea focusing on developing high value-added products based on high energy efficiency and environmentally-friendly technology. With operations throughout the country and overseas, the company has an extensive business portfolio covering the float glass, glass wool, glass fiber, and other markets.
About Air Products
Air Products (NYSE: APD) is a world-leading Industrial Gases company in operation for over 75 years. The Company's core industrial gases business provides atmospheric and process gases and related equipment to manufacturing markets, including refining and petrochemical, metals, electronics, and food and beverage. Air Products is also the world's leading supplier of liquefied natural gas process technology and equipment.
The Company had fiscal 2017 sales of $8.2 billion from continuing operations in 50 countries and has a current market capitalization of about $35 billion. Approximately 15,000 passionate, talented and committed employees from a diversity of backgrounds are driven by Air Products' higher purpose to create innovative solutions that benefit the environment, enhance sustainability and address the challenges facing customers, communities and the world. For more information, visit www.airproducts.com.
CONTACT: Media Inquiries: (Asia) Jessica Cheng, tel: (852) 2863-0585; email: [email protected]; (U.S) Debbie Bauer, tel: (610) 481-8061; email: [email protected]; Investor Inquiries: Simon Moore, tel: (610) 481-7461; email: [email protected]