Air-Powered Respirator supplies purified air.
Press Release Summary: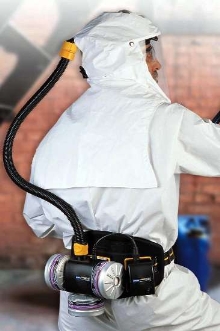 Belt-mounted, PAPR is available with 2 blower/battery assemblies. One option, for tight fitting facepieces, converts half masks and full facepieces to PAPR without tools or adapters. User can also choose from selection of loose fitting facepieces or bibbed hoods. With nickel metal hydride battery providing steady power for 8 hr, respirator is suited for abatement market, pharmaceutical industry, smelting operations, and hot work environments.
---
Original Press Release:

North Compact Air Powered Air-Purifying Respirator


Cranston RI 2005 North introduces the compact air powered air-purifying respirator. This belt mounted PAPR is available with two blower / battery assemblies. One option, for tight fitting facepieces, converts North air-purifying half masks and full facepieces to a PAPR without the need for any tools or adapters. North's compact air PAPR is also available with disposable head covers. Choose from a selection of loose fitting facepiecesor bibbed hoods.

Several HEPA filter, chemical cartridge and HEPA/cartridge combinations are available so you can be sure of getting the right protection for the job. The nickel metal hydride battery provides steady power for eight hours. This means less down time, more productivity.

About PAPR
Powered air-purifying respirators provide workers with a higher level of protection and comfort. For example, an air-purifying ½ mask has an Assigned Protection Factor (APF) of 10. When used on a PAPR, the same ½ mask has an APF of 25. An air-purifying full facepiece has an APF of 50, while a PAPR full facepiece has an APF of 1,000

The continuous flow of air eliminates breathing resistance, so there is less worker fatigue, greater productivity. PAPRs with loose fitting facepieces and bibbed hoods eliminate the need to fit test workers.

Ideal for the abatement market; pharmaceutical industry and labs; smelting operations; any hot work environments or jobs requiring heavy exertion. North's Compact Air PAPR provides the durability and comfort you want in a PAPR, plus the versatility you need to select the right PAPR configuration for your worksite.

ABOUT NORTH SAFETY PRODUCTS
North Safety Products, one of the world's largest manufacturers of occupational health and safety products, offers a full range of quality personal protection equipment, including head, hearing, eye/face, respiratory, hand and fall protection, lockout/tagout, protective footwear and clothing, first aid, controlled environment, safety signage and traffic safety products.

More from Mechanical Power Transmission