Air Pillow Film offers accelerated biodegradation.
Press Release Summary: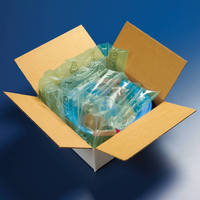 Available in 8, 10, and 12 in. wide rolls, EP-Flex(TM) Renew(TM) low-density polyethylene air pillow film features organic additive that accelerates microbial biodegradation without compromising recyclability. Exposure to landfill, compost, or other microbial environments triggers biodegradation. Film utilizes water-based ink and is tinted green using organic colorant for visual cue. Puncture- and heat-resistant with optimized tensile strength, film is compliant with ASTM D5511/ASTM D5338 standards.
---
Original Press Release:

Pregis' New EP-Flex(TM) Renew(TM) Air Pillow Film Made with up to 50% Less Resin, Plus Additive to Accelerate Biodegradation



Deerfield, Ill., March 17, 2009 - Pregis Corp. is introducing EP-Flex(TM) Renew(TM), a high performance low-density polyethylene air pillow film that is made with up to 50% less resin than competitive inflatable void-fill products. The new film structure also contains a proprietary organic additive that accelerates microbial biodegradation, without compromising recyclability.

"Pregis is constantly looking for ways to deliver high performance products while minimizing our impact on the environment. Through technological inroads, we have been able to engineer an air pillow film which has half the thickness of competitive products yet offers improved performance," explains Evan Everett, general manager, packaging systems, Pregis.

Unlike other air pillow films which are marketed as "environmental, or biodegradable," EP-Flex(TM) Renew(TM) doesn't contain any heavy metals or salts (which are found in oxo-biodegradable options.) Additionally, the product can be transported in high heat and has a longer shelf life than starch-based degradable products. EP-Flex(TM) Renew(TM) film uses a water-based ink and is tinted green using an organic colorant to provide consumers with a visual cue.

It will not begin to biodegrade until it enters a landfill (anaerobic), compost (aerobic) or other environments which contain microbes. Complete biodegradation typically occurs within one to five years, depending on conditions.

EP-Flex(TM) Renew(TM) has been optimized to run through Pregis' AirSpeed® 5000 and Airspeed® Smart(TM) systems which produce air-cushioning void fill on demand. No equipment adjustments are necessary to run the film.

"Air cushioning pillows have always been an environmentally-responsible choice when compared to peanuts, molded foam and others. Now Pregis has taken void-fill to a new level by producing a competitively priced alternative with significant environmental advantages. Not only is EP-Flex(TM) Renew(TM) designed to biodegrade in landfill environments, but it is 100% recyclable and contains up to ten percent recycled content," Everett says.

EP-Flex(TM) Renew(TM), along with the still available original EP-Flex(TM), provides greater puncture resistance and improved tensile strength compared to competitive products. The line has been engineered to provide stronger, more resilient air pillow seals.

EP-Flex(TM) Renew(TM) is compliant with both ASTM D5511 (determines the degree and rate of anaerobic biodegradation of plastic materials in high-solids anaerobic conditions such as landfills) and ASTM D5338 (determines the degree and rate of aerobic biodegradation of plastic materials on exposure to a controlled-composting environment under laboratory conditions).

The film is available in 8-, 10- and 12-inch wide rolls. Longer length bulk pack rolls are available for high volume consumers to minimize changeovers, while eliminating cartons and reducing the amount of pallets and cores used.

About Pregis:

Pregis Corporation is a leading global provider of innovative protective, flexible, and foodservice packaging and hospital supply products. The company offers packaging and product solutions for a wide variety of consumer and industrial market segments including food and foodservice, healthcare, agriculture, automotive, furniture, electronics, construction, fulfillment, catalog and military/aerospace. The specialty-packaging leader currently operates 47 facilities in 18 countries around the world. For more information about Pregis, visit www.pregis.com.

Please forward sales inquiries to:

Pregis Corp.

1650 Lake Cook Road, Ste. 400

Deerfield, IL 60015

Phone: (877) 692-6163

Email: protectivesales@pregis.com