Air Nozzle Clusters deliver up to 9.8 lb of blowing force.
Press Release Summary: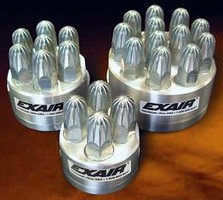 Super Air Nozzle Clusters deliver blowing force suited for long distance, wide area blowoff, drying, and cooling applications. Available as clusters of 4, 7, or 12 Super Air Nozzles, products provide blowing force of 3.2, 5.7, and 9.8 lb at full pressure of 80 psig. Aforementioned clusters consume 56, 98, and 168 scfm, respectively, and serve industrial applications where temperatures reach 158ºF. Attached to aluminum body, nozzles have zinc aluminum alloy construction.
---
Original Press Release:

Super Air Nozzle Clusters Provide High Blowing Force



EXAIR's new Super Air Nozzle Clusters provide extremely high blowing force suitable for long distance, wide area blowoff, drying and cooling applications. The clusters replace dangerous, energy-wasting open pipes and hoses known to cause hearing loss.

The Super Air Nozzle Clusters use a series of EXAIR's Super Air Nozzles for combined blowing power. The engineered nozzles maximize entrained airflow and force while reducing compressed air use and noise. Super Air Nozzle Clusters are available with four, seven or twelve Super Air Nozzles. At full pressure of 80 PSIG, they have an air consumption of 56, 98 and 168 SCFM while providing extremely strong blowing force of 3.2, 5.7 and 9.8 pounds.

The Super Air Nozzles have a zinc aluminum alloy construction and are attached to an aluminum body. They are suited for rugged industrial applications where temperatures can reach 158ºF. The airflow that exits the nozzles can not be blocked, which meets OSHA standard 29 CFR 1910.242(b). The noise levels meet OSHA's maximum allowable noise exposure standard 29 CFR 1910.95(a). Applications include part ejection, parts cleaning, chip removal, part drying, liquid blowoff and cooling hot parts. Price starts at $175.

For more information contact:
EXAIR Corporation
11510 Goldcoast Dr.
Cincinnati, OH 45249-1621
Phone: (800) 903-9247
Fax: (513) 671-3363
E-mail: techelp@exair.com
www.exair.com/sanc.htm

More from Electronic Components & Devices