Air Lifts use normal shop compressed air.
Press Release Summary: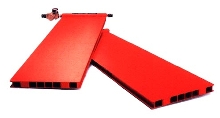 Aero-Pallets and Aero-Planks utilize Air-Film technology, which allows omni-directional movement and positioning in tight spaces on loads from 500 lbs to 5,000 tons without causing floor damage. Steering and positioning control is provided via products' Guide Wheel designs. Flat deck (as thin as 2 in. height off of ground) slips under loads and provides its own lift with shop compressed air.
---
Original Press Release:
New Low-Profile Innovation for Moving Big Loads - Lean Manufacturing for the Heaviest Equipment

Innovative Aero-Pallets and Aero-Planks are used in all industries to move heavy equipment on a thin film of air - virtually eliminating friction and the common problems of rollers or casters. Air-Film technology allows omni-directional movement with super-easy positioning in tight spaces on loads from 500 pounds to 5,000 tons - plus floor damage is eliminated.

NEW
- AeroGo introduces advanced steering and positioning control with a new thinner Guide Wheel design. The flat deck - as thin as 2 inches (55mm) height off the ground - slips easily under loads and provides its own lift with normal shop compressed air. Aero-Casters - turning tons into feathers for over 35 years! Call or send for free brochure and sample applications for standard catalog products and custom engineered systems. Stock Aero-Plank photo: <

Please let me know if I can be of further service. THANKS!

Kelley Roshka
Marketing
AeroGo, Inc.
1170 Andover Park West
Seattle, WA 98188
ph 206-575-3345 x531
fx 206-575-3505
aerogo.com
roshka.k@aerogo.com
More from Fluid & Gas Flow Equipment