Air Knife/Nozzle System offers fully adjustable speed.
Press Release Summary: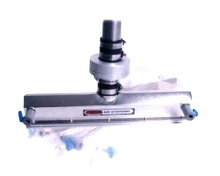 Sonic XE Air Knife or Air Nozzle System incorporates Rotary Air Coupling to allow air transfer from stationary supply piping to rotating air knife or nozzle assembly with no blower pressure loss. Rotation is infinitely adjustable from 10 to 200 rpm by setting thrust jet valves on main body, allowing multiple passes over product. Non-lubricated assembly ensures clean and dry air delivery. Applications include in-line, indexed, batch, and cabinet washers.
---
Original Press Release:
The Sonic Rotary Air Knife/Nozzle System
March 2002 - Fullerton, California Sonic Air Systems announces the introduction of a Sonic revolution. Sonic pioneered the single piece, extruded aluminum, high efficiency Sonic XE Air Knife design and now has yet another product innovation which will revolutionize the way all industries achieve liquid blow-off and drying of complex shapes. The industry standard Sonic XE Air Knife or Air Nozzle System, having air supplied by a Sonic Centrifugal Blower, now incorporates the Sonic Rotary Air Coupling to allow air transfer from the stationary supply piping to the rotating air knife or nozzle assembly with no measurable blower pressure loss. Rotation of the air knife or nozzle assembly is infinitely adjustable from 10-200 RPM by setting the thrust jet valves on the main body of the air knife. This allows the high velocity air knife stream to pass multiple times over the part instead of multiple stationary air knives to blow off the part as it passes by. The result is a significant reduction in the horsepower required to dry complex parts. The length of the drying/blow-off zone is also greatly reduced as compared to just stationary air blow-off devices. There are no separate drive mechanisms and the whisper of blower air required to create rotation does not have any adverse effect on air knife or blower performance. The Sonic Rotary Air Knife System (patent pending) is ideally suited to conveyorized in-line parts washers, indexed parts washers, batch washers and cabinet washers where drying has always been an energy intensive and/or time consuming phase of the cleaning process for a world of increasingly complex parts. Contact Sonic Air Systems for the Sonic Rotary Air Knife System, powered exclusively by Sonic Centrifugal Blowers. THE SONIC ROTARY AIR KNIFE SYSTEM (Patent Pending) - Multiple passes over the product
- Fully adjustable speed
- No external drive means very low torque for safe operation
- Non-lubricated assembly ensures clean & dry air delivery ENGINEERED AIR KNIFE SOLUTIONS - Dries indexed parts for less power and space than anything else
- Designed for horizontal and vertical drying applications
- Replaces multiple - stationary knives SONIC AIR SYSTEMS 4111 N. Palm St.; Fullerton, CA 92835; Tel: (800) 827-6642 / (714) 870-2700; Fax: (714) 870-0100; [email protected] Contact: Dan VanderPyl Sonic Air Systems, Inc. (714) 870-2700 ext. 3006 www.sonicairsystems.com