Air Innovations Offers Sterile Storage Cabinets That Regulate Temperature and Humidity Ranges
Press Release Summary: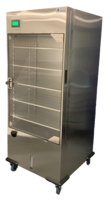 Designed for maintaining sterile conditions for medical equipment and simulate clean room conditions
Suitable for use in applications such as hospitals, dentistry, veterinary, and private practices
Can be used within the existing facilities and provide safe space to store equipment
---
Original Press Release:
Air Innovations® Announces Sterile Storage Cabinets
In a recent expansion of Air Innovations'® capabilities in healthcare, we are proud to announce our Sterile Storage Cabinets.
These units are designed to maintain sterile conditions following the sterilization of medical equipment. The cabinets are the only sterilization units that regulate temperature and humidity ranges to simulate clean room conditions. Normal circumstances would necessitate the design and construction of an entire clean room to store sterilized tools or surgical instruments with this level of care. Our sterile processing storage solution works within your existing facilities to provide a safe space to store equipment. This sterile storage solution can be used in a variety of applications including hospitals, dentistry, veterinary, and other private practices.
With quality in mind, these units not only meet but exceed VA directive 1116(2) for equipment storage. Air Innovations' clean storage cabinets are capable of interfacing with existing network environmental monitoring systems such as FreshLoc or TempTrak. See how our portable solution meets your needs today.
More from Laboratory and Research Supplies and Equipment