Air Guns generate 25 lb of force.
Press Release Summary: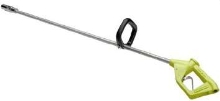 Suited for industrial and construction applications, OSHA-compliant Force 5(TM) Air Guns utilize Venturi nozzle, which draws in ambient air through side ports, intensifying air at nozzle tip and delivering 100% of power as supplied by air compressor. Dead-man trigger reduces air pressure and assures safe operation in case of hose failure. If tip is blocked, all airflow safely exits through side ports, reducing static pressure at point of blockage to less than 30 psi.
---
Original Press Release:

Guardair Introduces Industry's Most Powerful Air Guns


Commitment to Worker Safety Makes Rugged Force 5(TM) Completely OSHA Compliant

CHICOPEE, MA, August 16, 2005 - Guardair Corporation announces the introduction of its Force 5(TM) series, the most powerful air guns available today. In addition to generating 25 lbs. of force, these premium tools meet or exceed OSHA standards, making them truly incomparable. Manufactured entirely in the USA, the Force 5 is exclusively designed for heavy-duty industrial and construction applications.

Ergonomic and safety features have been built right into the Force 5 gun such as a dead-man trigger that reduces pressure and assures safe operation in case of a hose failure. In addition, the Force 5 meets OSHA requirement 1910.242(b) where in the event an air line is "dead-ended" - the tip of an air gun is blocked - all of the airflow will safely exit through the side ports, automatically reducing the static pressure at the point of blockage to less than 30 psi.

Other Force 5 features are:
o Advanced Venturi Nozzle draws in ambient air through unique side ports, dramatically intensifying air at the nozzle tip and delivering 100% of the power as supplied by the air compressor
o Lightweight, heavy-duty aluminum extension provides longer and easier reach
o More comfortable, ergonomically designed handle that protects the trigger from wear and abuse
o Adjustable auxiliary handle offering two-handed operation for additional support and control
o Extended trigger design for more comfortable, full hand actuation

Safety and Ergonomics
In the past, many end users have found the need to develop their own homemade air gun equipment - sometimes called "blowpipes" - to meet specific needs in the workplace. This tends to result in makeshift systems that not only fail to deliver the power to clean up tough work areas, but are very often unsafe and can be the cause of serious injury. The Force 5 fills this market niche by offering the performance needed to handle these tough jobs, along with the safety features so important to worker protection.

At Guardair Corporation, top priority is given to the highest level of product safety, and the design and manufacture of air guns and spray equipment is based on meeting or exceeding all applicable OSHA standards. At the same time, ergonomics - the applied science of designing workplace equipment intended to reduce operator fatigue and discomfort - plays an important role in the development of all Guardair products, resulting in equipment that is both more comfortable and more convenient to use.

Guardair safety air guns are being used in a wide variety of industries, from food processing, pulp & paper and iron & steel to aerospace, automotive and electrical equipment manufacturing. The robust, durable design of the Force 5, along with the unmatched power it offers, make it perfect for the tough cleaning environments of construction and heavy-duty industrial applications. For more information on the Force 5 series of powerful air guns, accessories and parts, as well as on other Guardair products, visit www.guardaircorp.com

Guardair Corporation is a leading manufacturer of safety air guns, pneumatic vacuums and spray equipment for the industrial MRO (Maintenance, Repair and Operations) market. Founded over 50 years ago, the company sells its products through a nationwide network of more than 1000 industrial distributors. Guardair products are used in a wide variety of end use industries including food processing, metal working, pulp and paper, textiles and transportation.

More from Controls & Controllers