Air Conditioning System provides spot cooling for workers.
Press Release Summary: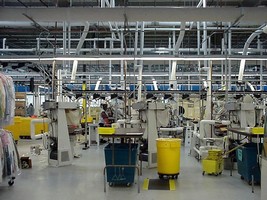 Hydro-Star Spot Cooling System utilizes Superflex fittings, which adjust to let individual employees determine direction of cool air flow. Comprised of Glycol Chiller (Model DCP) and commercial, high-pressure, water-cooled air handler, system provides stream of cool, dry air exclusively to each employee at their work station via 3 in. air line. System can also take 100% outside air, cool by 15 to 25°F, and dehumidify it in one pass.
---
Original Press Release:
Aqua Products Company, Inc. Hydro Star Spot Cooling System
New Superflex fittings that are easier to bend and control direction of the air flow; providing creature comfort without the added expense of trying to cool the entire plant. Hydro-Star Spot Cooling System now utilizes our new Superflex fittings, this is an upgrade which will last longer allow for easier to control air flow. - According to John Seppamaki, President of Aqua Products Company, "We have solved the problem of cooling employee work areas that were once thought to be impossible and too expensive to cool!" The Hydro-Star Spot Cooling System (HSSC) is a chilled water air conditioning system that provides a high stream of cool dry air exclusively to each employee at their work station. Similar to the cooling system of a jet airplane. This system has proven itself for over 8 years by cooling hundreds of employees in the extreme heat of a Dry Cleaning, Brick Manufactures, and Production Plants across the country. The heart of our HSSC system is the specially designed Glycol Chiller (Model: DCP) plus our commercial, high pressure, water cooled air handler. This HSSC combination provides cool dry air to be delivered only to the areas where your employees need it. The HSSC System is also designed so it can take 100% outside air, cool by about 15 to 25° F plus dehumidify it in just a single pass. This cool dry air is forced out of out high pressure blower and down a super insulated round duct to each employee workstation. Unlike thin plastic ducts, the HSSC insulated ducts will insure to keep the air cool and dry all the way to your employees. You are getting the majority benefits you are paying for. This could save you hundreds of energy dollars each year. This system was designed to be economical to operate. It costs pennies per hour to cool each spot. In many cases it is less expensive to operate than most swamp coolers plus the added benefit of providing the needed relief from the heat. A small 3" air line brings the conditioned air directly to the work stations. This allows us to provide a cool dry stream that will cool your employee and not the entire area. As long as your employee is in the air stream they will be cooled. This allows us to provide creature comfort without the added expense of trying to cool the entire plant. The employee has complete control of the direction of the cool air flow by adjusting their own Superflex fitting. It is best to flow the cool air across their body instead of down on their head. Aqua Products Company, Inc was incorporated in May 1993, a manufacturer of small tonnage chiller systems (1-20 tons). Aqua products serves many industries including: dry cleaning, medical, brewery, bakery, winery, restaurant, marine, potable water, air conditioning, plastics and many more. Contact: John W. Seppamaki j.seppamaki@aquaproducts.us 800-840-4264 www.aquaproducts.us
More from Computer Hardware & Peripherals