Air Compressor Controller is operated from web page.
Press Release Summary: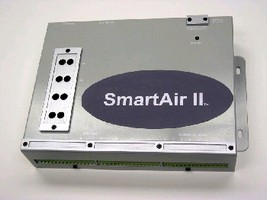 SmartAir II(TM) works with reciprocating or rotary screw air compressors and displays information on web page. Users can set pressure set points, mode of operation, alerts, and start/stop times from desk or from anywhere worldwide. Controller includes up to 4 onboard pressure or vacuum transducers, 8 RTD inputs, and 8 user supplied inputs. When inputs are exceeded, email is generated and, if specified, compressor is shut down until problem is fixed.
---
Original Press Release:

McFee Technologies is Pleased to Introduce SmartAir II



McFee Technologies is please to introduce SmartAir II(TM) - a controller for air compressors that uses web technology. Simply connect the SmartAir II(TM) to any computer network, open your web browser software, enter the IP address and communicate! It is that easy.

The SmartAir II(TM) is an easy to use, economical air compressor controller that works with reciprocating or rotary screw air compressors and displays information on a webpage. You can set pressure set points, mode of operation, start/stop times and alerts from your desk or from anywhere in the world.

The SmartAir II(TM) includes up to 4 on board pressure (or vacuum) transducers (ranges from 0-1 psi to 0-5000 psi), 8 RTD inputs (style PT-100) and 8 user supplied inputs (4-20 mAmps, 05 VDC or 0-10 VDC). The user can name each input, specify ranges and units. In addition, the SmartAir II(TM) monitors operating time and alerts you when maintenance is required.

You can also set alerts for each input. When the inputs are exceeded an email is generated and, if specified, the compressor is shut down until the problem is fixed.

The SmartAir II(TM) also features an onboard display screen that continually displays pressures, temperatures, user inputs and alert status.

For more information contact McFee Technologies at 888.872.9561 or visit our website at mcfeetechcontrols.com.

McFee Technologies is a developer of technology based products for the monitoring and control of compressed air systems.

McFee Technologies Company
Toll Free: 888.872.9561 Phone: 269.968.4240 Fax: 269.968.8561
2821 Wilber Avenue
Battle Creek MI 49015 USA
mcfeetechcontrols.com info@mcfeetechcontrols.com

More from Materials