Air Amplification Apparatus ensures uniform mold hardness.
Press Release Summary: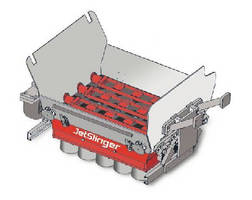 Based on Venturi principle, JetSlinger™ accelerates sand into cope and drag flasks on Hunter XL automated matchplate molding machines. Device creates vacuum and jet exhaust, drawing sand mixture through array of nozzle assemblies built into manifold mounted directly below Fillaerator blades and then slinging sand into flask. With perpendicular fill, impact-assisted device produces molds with optimized surface quality, owing to powered pre-compaction of sand.
---
Original Press Release:

Hunter at CAST EXPO Booth 473



Hunter at CAST EXPO Booth 473



JetSlinger from Hunter



-Impact-assisted flask filling, adjustable for cope and drag

-Venturi action air amplification for sand mixture dispersion

-Perpendicular flask filling, superior to side blow fill, no shadow effect

-Improves mold production up to 300% on selected jobs

-Better pattern definition, uniformity of mold hardness and surface finish



Available as standard equipment on new Hunter automated matchplate molding machines.



Retrofit your existing XL machines, too!



The Hunter JetSlingerTM device, an air amplification apparatus, based on the Venturi principle, accelerates the sand into the cope and drag flasks on the Hunter XL machines.  Currently in Beta testing, this device creates a powerful vacuum and jet exhaust drawing the sand mixture through an array of nozzle assemblies built into a manifold mounted directly below the Fillaerator blades and then slinging the sand into the flask.



With a perpendicular fill, this impact-assisted device produces molds more quickly and with substantially improved surface quality, owing to the powered pre-compaction of the sand.  This action results in greater uniformity of mold density and wall hardness, without sacrificing the accessibility and flexibility of a gravity fill machine.



The JetSlingerTM achieves a flask filling operation that compensates for mold quality limitations often caused by the flowability of the sand and pattern configuration during the high-pressure squeeze cycle.



In contrast to the conventional blow fill machines, there is no shroud, seals or vented flask assemblies required, along with the attendant maintenance. Further, the JetSlingerTM allows far greater flexibility and access needed to produce various castings with the use of chaplets, ram-up cores and exothermic risers. 



The JetSlingerTM was invented by company president Bill Hunter and the U.S. Patent Number US7819168B2 has been issued.



For more details, please contact:

Hunter Automated Machinery Corporation

2222 Hammond Drive

Schaumburg, Illinois 60194-1094

USA

Phone:  +1 847 397 5120

Email:  sales@hunterauto.com

Web:  www.hunterauto.com

Attention:  Bill Hunter or Mike Hughes

Related