Aiphone Announces Select IX Series Video Intercom Door Stations Have Received UL Standard 62368-1 for Audio/Video Certification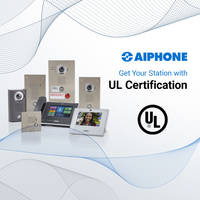 14 of Aiphone's IX Series IP video intercom stations and components are now UL certified
Redmond, Wash. – October 1, 2020 – Aiphone, the leading international manufacturer of intercom and security communication products, is excited to announce that 14 of its most popular IX Series IP video intercom stations and components have received certification from UL, an independent global safety science company that tests and certifies products.
The IX Series IP video intercom stations and components which received UL certification were tested under UL standard, 62368-1 , for audio/video, information, and communication technology equipment. A UL Standard certification is only granted through comprehensive procedures and guidelines, ensuring that Aiphone is offering only the highest quality products to its customers.
"Aiphone recognizes it is critical our products are both reliable and meet the highest safety standards set forth by the industry," said Brad Kamcheff, Aiphone Marketing Manager "By investing in the UL certification process, more than a dozen of our IX Series products now have the UL stamp of approval, ensuring we deliver on our goal of quality products that increase opportunities for our dealers and integrators."
The IX Series features the power of an enterprise platform with the simplicity of a single system—offering scalable enterprise security. The IX Series solution is ideal for commercial sites, industrial facilities, schools, campuses, parking garages, retail, emergency call, and correctional applications. 
Fourteen of Aiphone's most deployed products from the IX Series have received the UL Standard certification. They include a wide variety of IP stations, such as hands-free video master stations, handset video master stations, and a variety of other audio and video  components. 
Visit the Aiphone website for more information and a full list of certified products. 
Throughout 2020, Aiphone will be celebrating its  50th Anniversary in North America by thanking customers, dealers, integrators, and employees for providing the opportunity to develop and improve better security and communication solutions.
About Aiphone  
Aiphone's wide breadth of high-quality, reliable products offer solutions for security points in almost any application. Known for design simplicity, technical excellence, and backed by award-winning customer support, our highly configurable systems range from DIY audio intercoms, through sophisticated video entry systems, all the way to enterprise-level, IP-based communication networks with emergency call stations. For more information visit http://www.aiphone.com/home/ 
Contact:
Brad Kamcheff
Aiphone Corp.
800-692-0200 x 8111
brad.Kamcheff@Aiphone.com
Chelsie Woods / Rachel Peck
Eclipse Media Group on behalf of Aiphone
207-730-2396
cwoods@eclipsemediagroup.net
rpeck@eclipsemediagroup.net