Automated Guided Vehicle Systems
AGV Drive Unit facilitates parts transport.
Press Release Summary: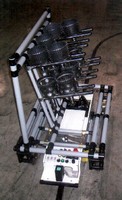 Featuring low profile design, BST AGV Drive Unit consists of drive motor, 24 Vdc power supply, control electronics, and guidance sensors. Unit travels along magnetic tape guide path, glides under stationary push cart, and engages cart by extending catch pin into cart's frame. Drive then conveys cart to required workstations or load/unload points and disengages from cart. Offering capacity of 1,100 lb, unit provides unidirectional travel with speed range of 13-164 fpm.
---
Original Press Release:
Automated Cart Drive Unit Creeps Up On Parts Transport
Creform® Corporation (Greer SC) debuts its latest addition to its automated guided vehicle (AGV) systems.. the BST AGV drive unit. Like an auto mechanics 'creeper,' the BST transport features a low-profile, sleek design and consists of a drive motor, 24-Volt DC power supply, control electronics, and guidance sensors. The BST drive travels along a magnetic tape guidepath, then easily glides under stationary push carts and engages the cart by extending a catch pin into the cart's frame. The BST unit then conveys the cart to required work stations or load/unload points further along the pathway, retracts the pin to disengage from the cart, and is freed to travel to further points and move additional carts to other strategic locations. Use of the Creform BST in this type of system allows users to move multiple carts of similar designs, or a variety of carts with specific carrying functions-provided the undercarriage of all push carts are alike. The Creform BST AGV provides a speed range from 50 meters (164 feet) per minute for high-speed transport to as slow as four meters (13 feet) per minute when approaching load/unload points or navigating tight spaces. The capacity is 500 kg (1,100 pounds). The BST AGV is designed for unidirectional travel and incorporates brakes for stopping and parking. The economies and flexibility of transporting multiple carts with just a few drive units is further bolstered by the simplicity of the Creform AGV system, and specifically its installation and operation. Further economies can be achieved by utilizing Creform's system of pipes, joints and accessory hardware items to design and fabricate the material handling cart although other fabrication methods may be used provided the interface required by the BST AGV is accommodated. First, for cost savings, ease of use, and minimal interruption to facilities, the Creform BST guide path, like all of the firm's AGV systems, 'installs' with the placement of adhesive backed, rugged magnetic or embedded magnetic stripes for high-traffic areas. A cart-mounted magnetic induction then senses the tape guide path as the BST unit moves along the path. There is generally no need to cut channels in the floor for tracks, rails or guide wires- or move machinery, equipment or create other disruptions to production timetables. In fact, for installation purposes, normally the only preparation for the layout is to clean the floor to provide a good bonding surface for the adhesive tape material. Additional pieces of the tape, placed perpendicular to the guide path, can be used to signal speed changes, stops, to extend or retract the engagement pin, and to actuate warning alarms and lights. For applications requiring multiple travel routes and/or complex traffic control, a PLC controller can be used in conjunction with positional feedback sensors and monitors to provide operational management. Second in cost savings is the use of Creform pipes to build the carts. For ease of construction, the Creform system consists of pipe sections that are cut to required plan lengths with either a manual or powered pipe cutter, band saw or chop saw. For assembly, the system utilizes either metal joints that tighten onto pipe sections via a threaded fastener, or plastic joints that are 'welded' to the pipes with adhesive. If part needs change or operations are modified, the use of metal joints allows structures to be disassembled and reconfigured using most of the existing components. For additional information see Creform's web site at www.creform.com