Age Oven Heats Up 12,000 Lbs of Aluminum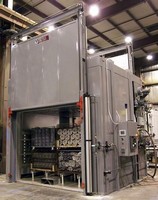 October 23, 2007

Wisconsin Oven designed and manufactured a gas fired batch oven for aging assorted aluminum parts. The oven has work chamber dimensions of 9'0" wide x 9'0" long x 7'6" high and a maximum operating temperature of 600ºF.

The customer needed to alleviate a bottleneck in their production process and asked Wisconsin Oven to design a system to shorten their aging process time. A batch style aluminum aging oven was designed which allows the customer to load 12,000 lbs of densely loaded aluminum parts stacked into 4' wide x 4' long x 32" high baskets (stacked two baskets high), for a total of 8 baskets per load. This new system allows more than twice the amount of baskets than their previous equipment could hold.

The batch oven features vertical lift doors at both ends (fork lift loaded from both ends), which cuts down on loading time and the space required. The oven has a Maxon Ovenpak 425 burner rated at 2,500,000 BTUH and utilizes a 33,000 CFM @ 25 HP recirculation blower with high static pressure, combination air flow, and a special supply duct design. A pier rail hearth elevates the load 12" above the 2" insulated oven floor. This allows the majority of heated air to be supplied under the baskets of parts. A sheet metal block off was placed in the center of the chamber to help force the high volume supply airflow to pass through each of the baskets instead of between them. This design cut the previous heat-up time in half. An 8-point heat-up test was performed with one thermocouple buried between parts in the center of each basket. The 12,000 lbs of aluminum parts were heated from ambient temperature to 540°F in 1 hour and 20 minutes.

The oven is located on an outdoor covered dock. To withstand weather conditions the interior and exterior wall panels were caulked, and a Nema 4 rated control panel along with threaded rigid conduit was used. The control system features an Athena (modular) temperature controller and a Honeywell DR4300 circular chart recorder with a digital display for recording the temperature. The oven also has a standard PLC control package that includes an Allen Bradley Micrologix PLC. One hard wired "program start" button was supplied for ease of operator use. A 6 point exterior-mounted thermocouple jack panel was utilized. This oven also features lube lines run from the roof-mounted blowers to floor level for ease of maintenance.

For further details on this equipment, or if you would like to work with us on another application, call Doug Christiansen at (262) 642-6023, or by email at dchristiansen@wisoven.com.


More from Software