AGC Control Platform does not require reflectors or markers.
Press Release Summary: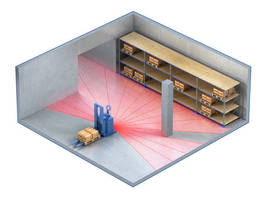 Compatible with all AGV types, NDC8 platform consists of navigation, hardware, and software components. This complete and scalable system, via its natural navigation capability, eliminates need for reflectors or markers to existing environment and offers OEMs as well as integrators freedom to arrange and rearrange way AGVs move in warehouse or factory. Multi-navigation support is useful when serving storage space using one type of navigation and production area using another.
---
Original Press Release:

Kollmorgen's NDC8 Offers Natural Navigation Capability for AGVs, Allowing Navigation with No Reflectors or Markers



RADFORD, VA – With the addition of natural navigation capability to Kollmorgen's NDC8 platform, the need for reflectors or markers to the existing environment for navigation has been effectively removed. OEMs and integrators are free to arrange and rearrange the way AGVs move in the warehouse or factory. Installation time is short, reducing costs and minimizing the effect on operations. With natural navigation it is also easy to expand existing systems based on other navigation technologies.



Natural navigation is one of the ideas from the NDC Concept team within Kollmorgen. The team is tasked to generate new ideas on navigation, hardware, software and services that can be used in vehicle automation kits. Other ideas on the drawing board are the intuitive all the way concept for higher performance and lower total costs, and a requirements collector  for easy sketch-up of desired driving paths on a tablet.



For more information on the NDC8:

View video https://www.youtube.com/watch?v=nFIVjd4DSkQ

Visit the website. http://ndcsolutions.com

Sign up for newsletter. http://ndcsolutions.com

Follow on LinkedIn. https://www.linkedin.com/company/kollmorgen-automation-ab-ndc-

Contact us for more information. http://ndcsolutions.com/contact/



ABOUT KOLLMORGEN

We Put Your Vehicles in Motion

Kollmorgen is a world-leading provider of vehicle automation kits for automated guided vehicle (AGV) systems. Our NDC Solutions platform includes everything you need for excellent vehicle control—hardware, software, navigation, and design and service tools. Turn to us when you want to create vehicle solutions that give you a competitive advantage in the marketplace. With an installed base of 17,000 vehicles, we have the knowledge and experience to help you succeed.



For more information, visit www.ndcsolutions.com or write to driverless@kollmorgen.com. Contact details to your closest representatives are available at http://ndcsolutions.com/contact/.

More from Test & Measurement