AFL Industries' Specialty Wastewater Treatment Product Line Upgraded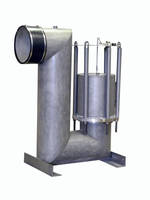 AFL Oil Stop Valves To Be Showcased at EUEC Conference



RIVIERA BEACH, FL — Since its acquisition of AFL Industries (www.aflindustries.com), RGF Environmental Group, Inc. has significantly grown the global footprint and brand for this manufacturer of high-quality, prefabricated oil/water separators, oil stop valves and other specialty wastewater treatment products.



"We have totally re-engineered the product line, improving quality, performance and costs," said AFL Industries General Manager Sohan Singh.  "Because we are a vertically integrated company, we are also capable of handling the entire manufacturing and assembly process in-house, eliminating extensive lead times while also providing highly competitive pricing."



AFL Industries' market-leading oil stop valves (the most economical way to prevent bulk hydrocarbon spills from entering streams and sewers) will be the focus of the company's product presentation (Booth #385) at the 19th Annual Energy, Utility Environment Conference and Trade Show (EUEC), February 3-5th in San Diego.  With over 2,000 attendees, the EUEC is the largest, longest-running, professional networking and educational event of its kind with 500 presentations scheduled.



"As the original innovator and inventor of the "Clark" Oil Stop Valve, AFL continues to utilize its original designs, while enhancing the core strength, components and quality of the products," said Singh. "The consequences of not controlling a spill can be catastrophic, however, the AFL/Clark Oil Stop Valve (OSV) is designed to solve these problems and protect our environment."



The OSV is available from AFL prepackaged in a fiberglass or steel catch basin or as an option on an AFL oil/water separator.  In addition, the OSV is available separately for installation in existing separators, catch basins or manholes.



"AFL's emphasis is on the economical engineering of waste-stream treatment projects and the prevention of environmentally destructive spills," said Singh.  "Our in-house Applications and Project Departments, staffed with full compliments of mechanical, electrical, structural and environmental engineers, have assisted thousands of firms from conceptual stages through the final design.



About RGF Environmental Group

www.rgf.com



RGF manufactures over 500 environmental products and has over 1,000,000 systems installed worldwide. The company, established in 1985 and based in South Florida, is represented in 33 countries, providing the world with the safest air, water and food without the use of chemicals. RGF maintains a Research and Development staff focused on continuously improving existing systems and developing new award-winning products. For more information on RGF and AFL and their product lines and services, please visit www.rgf.com or www.aflindustries.com, or contact Sohan Singh, AFL General Manager 800)-842-7771 Ext. 122, email

[email protected]

, or Bill Svec, VP Industrial Wastewater at Ext. 108 or email

[email protected]

.