Aerosols provide mold release and lubrication.
Press Release Summary: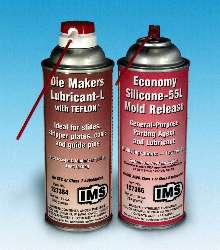 Economy Silicone-55L Mold Release contains 5% silicone concentration. It does not contain CFC's, HCFC's, Class 1 or Class 2 substances and can be used for food-packaging applications. Heat-resistant Die Makers Lubricant-L, with Teflon®, is blended to not dry and to minimize bleeding out with ejector pins, knockouts, slides, cams, and all moving parts. Teflon® additive minimizes galling and will not wipe away on closely fitted tooling.
---
Original Press Release:
Two New Aerosols Now Available from IMS

May 2003

Chagrin Falls, Ohio.... IMS Company recently added two new aerosols to its extensive line-Economy Silicone-55L Mold Release and Die Makers Lubricant-L with Teflon®. Both products are available only from IMS, the leading distributor of auxiliary equipment and supplies for the plastics processing industry,

A general purpose parting agent and quality lubricant, Economy Silicone-55L Mold Release contains a 5% silicone concentration (almost 70% more silicone than other leading sprays) for a high quality, low cost mold release ideal for use on problem parts. An add-on spray tube permits localized delivery of the product in tight areas and hang-up spots in a mold. Economy Silicone-55L Mold Release does not have any CFC's, HCFC's, Class 1 or Class 2 substances and can be used for food packaging applications. This mold release is effective on ABS, acetal, acrylic, nylon, PMMA, polycarbonate, polyethylene, polypropylene, polystyrene, polysulfone, PPHOX, PPO and rubber.

Die Makers Lubricant-L with Teflon® is a long lasting, heat resistant lubricant for molds and dies, that is ideal for use on slides, stripper plates, cams and guide pins. An improved version
of the standard lubricant, Die Makers Lubricant-L with Teflon® is thicker and tackier, blended to not dry and to minimize bleeding out with ejector pins, knockouts, slides, cams and all
moving parts. The Teflon® additive minimizes galling and will not wipe away on closely fitted tooling. Die Makers Lubricant-L with Teflon® is a new innovation in chemistry that is fully
compatible with lithium and calcium greases. It also contains no CFC's, HCFC's, Class 1 or Class 2 substances.

For more information about Economy Silicone-55L Mold Release, Die Makers Lubricant-L with Teflon® or any other aerosols available from IMS Company, send an e-mail to sales@imscompany.com or contact IMS Company, 10373 Stafford Road, Chagrin Falls, Ohio 44023-5296. Phone: 800.537.5375. Fax: 888.288.6900.

About IMS Company

IMS Company, headquartered in Chagrin Falls, Ohio, has been providing accessory equipment and supplies to the plastics processing industry for over 50 years. The company specializes in helping customers find innovative solutions to all types of plastics processing problems. In addition to providing quality molding products and equipment, ResQSM delivery service and refurbishing services, IMS offers a toll-free hotline for experienced engineering and technical support.

http://www.imscompany.com/

ORDER LINE: 800.537.5375

TECH-SUPPORT TOLL-FREE HOTLINE: 866.IMS.9001
More from Electrical Equipment & Systems