ADwin and Delphin Systems for Test Stand Automation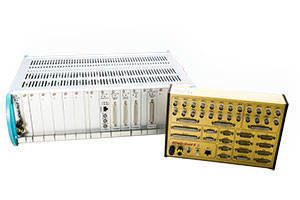 Professional Measurement Systems for Data Collection Analysis



CHESTERLAND, OH —



If you are searching for a system to automate data collection and/or control of a test stand, CAS DataLoggers provides cost-effective ADwin and Delphin data acquisition systems. These intelligent devices are installed in hundreds of locations worldwide in applications such as servo-hydraulic control, reliability evaluation, dynamometer and automotive testing, electrical component testing, appliance testing, and fluid control device testing.



These systems offer the flexibility to mix and match I/Os to meet the specific needs of the test, allow easy connection to a PC via LAN, USB or WiFi, and have the ability to interface to many common software development and analysis tools. Just give our experienced CAS DataLoggers Applications Specialists a call to find the right data acquisition system for your test stand. For more info you can also visit our Test Stand Automation page. Call us today to get a head start on your application!



ADwin: Real-Time Control



ADwin real-time data acquisition systems are used for testing Automotive components, sensors and ECU's, electrical component test, control of servohydraulic systems, motion control, laser and ebeam control, signal generation, and high speed, synchronized data acquisition.



ADwin control systems support parallel, individually-controlled, real-time processes while running independently of the PC's operating system. ADwin systems provide deterministic operation with response times of 1 usec. or less. A key feature is their tightly coupled analog and digital inputs along with counters that provide extremely low-latency operation.



ADwin real-time systems are available in three form factors:





The ADwin-Light-16 which offers 8 analog inputs;



The ADwin-Gold/Gold II with 16 analog inputs;



and the ADwin-Pro/Pro II Series which utilize a modular form factor with plug-in modules allowing up to 480 analog or digital inputs in a single chassis.



There are also a variety of other I/O options including CANbus, SSI, Profibus/Fieldbus, RS-232/485, and signal conditioner modules.



Software



The ADwin software environment can be used under Windows (95/98/ME/NT/2000/XP/Windows 7) and LINUX, or as a stand-alone data acquisition system. Also, ADwin has drivers for many of the popular programming environments including VB, VC/C++, LabVIEW, TestPoint and others.



Delphin Technologies:



Delphin Technologies data loggers/data acquisition systems solve a variety of measurement and control problems in industrial and laboratory applications. These universal systems feature different analog and digital I/O modules that can be used with a wide range of signal types including: Voltage; 4-20 mA Current; Thermocouple; RTD; and Resistance. They also offer powerful alarm and programming capabilities allowing them to process measurements and initiate actions on their own.



Delphin systems can be used for local data acquisition and logging when connected to a PC; for remote unattended data collection connected the internet; or as a stand -alone device. Delphin products are typically used in the following ways:





Message devices for industrial measurement data acquisition



ProfiSignal for the automation of testing benches



The AMDT - module for vibration monitoring and analysis



Remote monitoring of plant and machinery using ProfiSignal Go software



Operating DAQ and intelligent processing within Message devices



Supplying individual solutions (mobile, control cabinets, 19-inch .....)



Developmental services (processing, user interfaces, databases)



For specifications and more details on our ADwin and Delphin data acquisition systems, or to find the ideal solution for your application-specific needs, contact a CAS Data Logger Applications Specialist at 800-956-4437 or visit our website at www.DataLoggerInc.com.

 

Contact Information:

CAS DataLoggers, Inc.

8437 Mayfield Rd.

Chesterland, Ohio 44026

440-729-2570

800-956-4437

sales@dataloggerinc.com

www.dataloggerinc.com

More from Software