Advantech Receives Class 1, Division 2 Certification for Industrial Ethernet Switches and Media Converters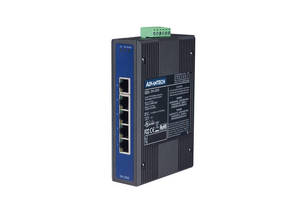 (Cincinnati, Ohio - 07/30/09) - The Industrial Automation Group of Advantech announces that a wide range of their EKI family of Industrial Ethernet Switches and Media Converters have received Underwriters Laboratories (UL) Class 1, Division 2 (groups A, B, C, and D) certification for use in hazard locations.

Installation of electronic devices in environments where flammable liquids, gasses and vapors may be present is a real challenge. It is critical to use the right equipment in these environments. With UL Class I, Division 2 certification, the EKI-2000 and 7000 series of products are now approved for use in hazardous environments, which are common to oil & gas, mining, and chemical processing industries.

The EKI family of Industrial Ethernet Switches are available in 5-port to 18-port configurations, with both standard copper and fiber connections, 10/100Mbps and gigabit (1000Mbps) speeds, and in both unmanaged and managed models. Managed models offer manual port settings, advanced network traffic control, an ultra-fast 10ms self-healing ring for high availability, and remote monitoring capabilities. The EKI Media Converters allow connections to be extended over optical fiber cable up to nearly 70 miles (110km) and are available in both 100Mbps and gigabit (100Mbps) speeds, with various types of fiber connectors.

Packaged in a compact and thin DIN-rail mount metal chassis, the EKI family of Industrial Ethernet products are ideal where panel space is limited. They are also ruggedized for demanding industrial applications, with redundant 12 to 48 VDC power inputs, 4,000 VDC Ethernet ESD protection, power line surge (EFT) protection of 3,000 VDC, and feature standard -10 to 60°C or extended -40 to 75°C operating temperature range to ensure system uptime.

Currently, the following models are Class 1, Division 2 certified-Unmanaged Ethernet Switches: EKI-2528, EKI-2528I, EKI-2525, EKI-2525I, EKI-2525M, EKI-2526M, EKI-2526S, EKI-2528, EKI-2528I, EKI-2728; Managed Ethernet Switches: EKI-7559MI, EKI-7559SI, EKI-7656C, EKI-7657C, EKI-7758F; Ethernet Media Converters: EKI-2541M, EKI-2541MI, EKI-2541S, EKI-2541SI, EKI-2741F, EKI-2741SX, EKI-2741LX.

Advantech continues to expand the capabilities and breadth of their line of industrial Ethernet products. With these new certifications, the compact and rugged EKI-2000 and EKI-7000 series can now be used in a much broader range of applications, including use in hazardous locations.

For more information, or to purchase, please contact Advantech at 1-800-205-7940 or your regional Advantech authorized distributor.

Advantech Corporation, Industrial Automation Group - Founded in 1983, the Industrial Automation Group of Advantech Corporation is a pioneer in eAutomation technology; combining connectivity, flexibility and ruggedness with today's most reliable PC-based automation technologies. Product offerings include: Open HMI platforms, Industrial Ethernet, Automation Controllers, Automation Software, Embedded Automation Computers, Distributed I/O Modules, Plug-in I/O, and Industrial Communication solutions for a wide array of industries. With more than 20 years experience in providing a full range of products to different vertical markets, the Industrial Automation Group is proving to be a globally leading Automation Product and Services provider. US operations for the Industrial Automation Group are based in Cincinnati, OH (800-205-7940).

Advantech Corporation, Industrial Automation Group, 1320 Kemper Meadow Drive, Suite 500, Cincinnati, OH 45240. Website: www.advantech.com/ea. Email: eAinfo@advantech.com.