AdvancedMC Processor Module leverages 64-bit dual-core CPU.
Press Release Summary: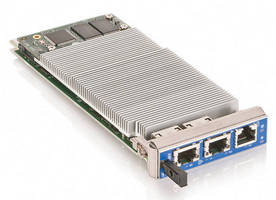 Offering optimized performance on MicroTCA integrated platforms and as daughter compute-intensive module board in ATCA platforms, AM4150 comes with 2.2 GHz Freescale QorIQ P5020 CPU with 2 cores based on e5500 Power Architecture. High-speed frame managers and multiple high-speed connections, such as Serial Rapid IO (1.3/2.1) and PCIe, accommodate demanding processing requirements. To support max throughput and low latency, board provides dual-channel memory up to 8 GB ECC DDR3 RAM.
---
Original Press Release:

Kontron AdvancedMC Processor Module AM4150 with 64bit Dual-Core Freescale QorIQ Processor



High-throughput, low latency single board computer on an AdvancedMC form factor

Eching, Germany - Kontron announced today the introduction of its powerful AdvancedMC processor module AM4150. Equipped with a 64bit Dual Core Freescale QorIQ P5020 CPU running at up to 2.2 GHz and high-speed fabrics, the new Kontron AM4150 offers outstanding performance on MicroTCA integrated platforms and as a daughter compute-intensive module board in ATCA platforms.

The Kontron AdvancedMC processor module AM4150 incorporates the high-performance Freescale QorIQ P5020 dual core processor with cores based on the e5500 Power Architecture. With high-speed frame managers and multiple high-speed connections like Serial Rapid IO (1.3/2.1) and PCI Express, the Kontron AM4150 meets highest processing requirements. To support maximum throughput and low latency, the Kontron AM4150 provides a fast dual-channel memory of up to 8 GB ECC DDR3 RAM.

"The Kontron AM4150 is an ideal fit for applications requiring maximum core frequency, for example if legacy code needs to be reused or software needs to be written in a monolithic way. The e5500 core architecture delivers a 20% efficiency gain over the predecessor e500mc. A closer look to the double precision floating point unit (FPU) unveils 2x to 4x the performance of the e500mc. In addition, the data path acceleration architecture handles packet processing tasks which removes load from the core. Targeted control and storage applications are found in networking and wireless infrastructure projects which also include the defense or industrial market", says Mario Anich, product manager at Kontron. "The overall goal when designing the MicroTCA.0 compliant AM4150 was to offer highest single threaded performance as well as longevity."

The Kontron AM4150 provides flexible configuration of high-speed fabrics. On AMC ports 4-7, 4x SERDES lines can be configured either as PCI Express (root complex or end point) or Serial Rapid IO (host or agent), primarily for applications which require close programming to the chip without extensive overhead and with minimum latencies. AMC ports 8-11may be configured either for Serial Rapid IO or PCI Express or up to 3x GbE. In addition, the Kontron AM4150 supports three Gigabit Ethernet channels. Either 2x GbE on AMC ports 0,1 plus 1x GbE at the front or 2xGbE at the front and port 0 on the backplane.

Depending on the application, the Kontron AdvancedMC processor module AM4150 supports usage in systems with or without a MicroTCA Carrier Hub (MCH) in order to reduce costs and speed up system development. With availability of the processor at least until 2020, and a thorough selection of components, the Kontron AM4150 supports a long lifetime in the field. The Micro SDHC card socket protects from regular flash discontinuation. Different boot options are available on the Kontron AM4150, either from the Micro SDHC card or from the soldered NOR or NAND Flash (for rugged applications).

The superior multicore performance makes it a compelling module to support fixed and mobile network applications developed by telecom equipment manufacturers (TEMs). From 6-slot to 14-slot AdvancedTCA Open Modular Core Platforms, the Kontron AM4150 is compatible with the Kontron 10G AT8404 Carrier Blade, featuring four AMC bays that support AMC.0 rev 2, AMC.2, AMC.3, and AMC.4.

Kontron also offers a choice of MicroTCA systems for the Kontron AM4150. For instance the Kontron OM6060 can be used as entry level platform for operating the Kontron AM4150 with point to point fabrics PCIe and SRIO in combination with the Kontron basic MCH AM4901 which provides Ethernet connectivity to all AMC slots. In this system, the Kontron AM4150 can be combined with I/O cards, DSP cards and different processor boards. For higher demands, the Kontron MicroTCA system OM6120 provides multiple connections over SRIO for up to 12 AMCs in combination with the Kontron sRIO MCH AM4904. The system can be operated with dual MCHs and allows additionally switching PCIe fabrics in combination with the Kontron PCIe MCH AM4904.

The Kontron AdvancedMC processor board AM4150 will be available in May. It supports VxWorks 6.9, WindRiver Linux, as well as Wind River Hypervisor. For more information about the Kontron AdvancedMC processor module AM4150, please go to:
http://www.kontron.com/products/boards+and+mezzanines/advancedmc/processor/am4150.html

For more information about AdvancedMC modules, please go to:
http://www.kontron.com/technologies/advancedmcs/

For more information about MicroTCA, please go to: http://www.kontron.com/MicroTCA

About Kontron
Kontron is a global leader in embedded computing technology. With more than 30% of its employees in Research and Development, Kontron creates many of the standards that drive the world's embedded computing platforms. Kontron's product longevity, local engineering and support, and value-added services, helps create a sustainable and viable embedded solution for OEMs and system integrators. Kontron works closely with its customers on their embedded application-ready platforms and custom solutions, enabling them to focus on their core competencies. The result is an accelerated time-to-market, reduced total-cost-of-ownership and an improved overall application with leading-edge, highly-reliable embedded technology.

Kontron is listed on the German TecDAX stock exchange under the symbol "KBC". For more information, please visit: http://www.kontron.com/


More from Electrical Equipment & Systems