Advanced Stanbio Excel Chemistry Analyzer available at Block Scientific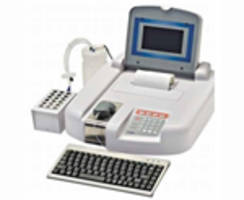 Block Scientific is offering the Stanbio Excel chemistry analyzer at a great price.
A reliable supplier of laboratory equipment based in New York, Block Scientific is offering the quality Stanbio Excel chemistry analyzer at a great price. This device is known for its user-friendly features, convenience and flexibility. With easy-to-follow instructions displayed on the screen for each test, this device also comes with additional technical support through a detailed operating manual. The product package also includes incubator, keyboard, and power adaptor.
The open system format accommodates 120 programs and all Stanbio standard routine chemistries are programmed into the Excel for added convenience. This chemistry analyzer is equipped to handle endpoint, kinetic and EIA assays. Calculation modes include:
* Single point calibration by standard or factor
* Uptake
* Multi-point calibration with point-to-point curve fit
* Rate by standard or factor (batch or single)
* Sample blanking
After completing the necessary calculations, the Excel displays patient results in a user defined format. It delivers hospital quality results via a bichromatic optical system, which eliminates interferences caused by sample or cuvette quality.
The Excel provides test results within minutes. Printed results provide hard-copy patient records and eliminate the need for manual calculations.
Block Scientific ensures excellent customer service and provides maintenance support for different types of laboratory equipment. This reliable vendor also offers customer-friendly options such as refurbished lab equipment, reagent rentals, and leasing plans.
About Block Scientific
Block Scientific, an established lab equipment supplier in NY offers a wide range of quality laboratory equipment such as analyzers, microscopes, co-oximeters, incubators, centrifuges, balances, and much more. Orders can be placed at www.blockscientificstore.com
Contact Information
22 Sawgrass Drive
Bellport, NY 11713 USA
Tel: 1-866-203-5777 (toll free)
Tel: 631-589-1118
Fax: 631-589-4088
Email: info@blockscientific.com