Advanced Shell & Tube Manufacturing for Refinery & Power Plants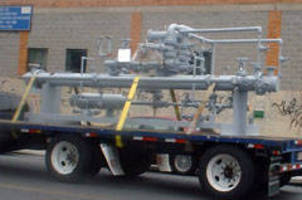 DHT is a manufacturer of a full range of heat exchangers and heat transfer products for over 60 years. Our standard product line includes shell and tube exchangers, brazed plate and plate and frame heat exchangers meeting ASME, U&R Stamp, TEMA, HEI, API and HTRI codes. Diversified Heat Transfer has been awarded contracts for shell & tube heat exchanger manufacturing for the refining and power plant industries.

Skid mounted shell & tube heat exchangers are engineered for custom specifications for power plant & refining needs. Heat exchangers are corrosion resistant and can be constructed of copper, stainless, titanium, nickel of other exotic alloys. Tube configurations are engineered for greater efficiency, capacity and longevity. Heat exchanger available in vertical & horizontal styles or any combination to suit heat transfer & application needs & specifications.

In addition from Diversified Heat Transfer are industrial HVAC heating and cooling air handling coils for residential and commercial use. Plate fin, helical fin, L footed and solder bonded air coils; 3/8 to 1" o.d. tubing in stock, new and OEM replacement coils for steam and water applications. Tube bundles engineered to customer specifications with turnaround orders faster than the OEM and emergency service available. Econo Line shell and tube heat exchangers 4" to 30" steam to liquid or liquid to liquid styles.

For more information, contact Diversified Heat Transfer Inc., 1710 Flushing Avenue, Ridgewood, New York 11385 Tel: 800-221-1522 / 718-386-6666 Fax: 718-386-7809 Web: www.DHTNET.com.

Related