Adpaters turn electrical power outlets network connections.
Press Release Summary: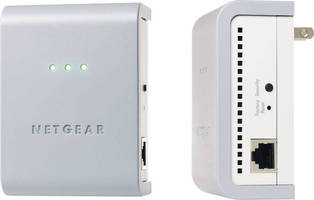 Based on HomePlug® AV standard, Powerline AV Ethernet Adapter Kit (XAVB101) provides 200 Mbps Internet and network connections using existing electrical power outlets. It comes with 2 Powerline AV Ethernet Adapters, one Ethernet cable, installation guide, and set-up CD. UPA-based Powerline HD Plus Ethernet Adapter Kit has plug-in design and push-button data encryption as well as built-in power sockets. Both kits work with any Ethernet-ready device.
---
Original Press Release:

NETGEAR Launches Revolutionary 'Powerline Adapters' Aimed at Middle East Real Estate Market



Global smart home market expected to touch USD 10 billion by 2010

The global 'Smart Home' market is currently estimated to be worth USD 1.3 billion and is expected to touch USD 10 billion worldwide by 2010, according to a recent report from Frost & Sullivan. Aiming to leverage the demand for 'Smart Home' technologies amidst the real estate sector in the Middle East, NETGEAR, a worldwide provider of technologically advanced and branded networking products, has announced the availability of its latest 'Powerline Adapters', which are capable of turning electrical power outlets into high-speed Internet and home network connections. NETGEAR's Powerline AV Ethernet Adapter Kit (XAVB101) provides reliable, high-speed internet and network connections up to 200 Mbps to the home network using existing electrical power outlets, to devices such as digital media receivers, set-top boxes, game consoles, personal computers, and networked attached storage.

According to recent studies, construction projects underway in the GCC are estimated to be worth USD 1 trillion, and projected to grow dramatically with the launch of the GCC common market. Furthermore, new technological breakthroughs will enable real estate developers to add a wider range of value-added features to their properties such as groundbreaking smart home functionalities. NETGEAR has launched its 'Powerline Adaptors' in response to growing demand for smart technologies. The Powerline AV Ethernet Adapter Kit is based on the HomePlug® AV standard, and the UPA-based Powerline HD Plus Ethernet Adapter Kit is based on a plug-in design and push-button data encryption that provides privacy and security for a trouble-free set-up. In addition, the Powerline HD Plus Ethernet Adapter Kit also features built-in power sockets to save power outlets.

"There is a growing trend towards intelligent smart home technologies, which opens up new opportunities for real estate developers in the Middle East to deliver more value to their property offerings and increase business potential. Developers are incorporating these state-of-the-art technologies in their development projects, offering investors and property buyers a chance to enjoy a truly smart home experience," said Ahmad Zeidan, Channel Sales Manager, NETGEAR Middle East. "The increasing demand for consistent high-speed Internet connectivity throughout the entire home has compelled networking providers to develop new products that are not only fast and reliable, but also simple to install for the average consumer."

NETGEAR's powerline technology products are remarkably easy to use. By just simply plugging one stylish UPA-certified Powerline HD Plus Ethernet Adapter into an AC outlet near a modem, gateway, or router and another near any Ethernet-ready device, consumers can instantly enjoy speeds up to 200 Mbps and access to reliable HD streaming throughout the house. Based on the HomePlug AV standard and compatible with both wired and wireless routers and gateways, consumers can also just plug one Powerline AV Ethernet Adapter into their router and another into any Ethernet-ready device to turn any electrical power outlet into a high-speed Internet and home network connection. As an added feature, the subtle, natural shade of the Powerline kit is designed to blend into its environment and minimize cluttered appearance.

"High-speed Powerline devices are able to support this growing bandwidth demand while also transmitting high-quality broadband Internet to the wireless problem areas of the home. If a market does develop, it seems less likely to come from impetus in the building, construction or property sectors. The greater opportunity for growth in the use of smart home technology appears to be from its addition to the burgeoning array of consumer electronics - especially home entertainment and personal communication systems - and initial demand from the more technology-literate early-adopter households," concluded Zeidan.

NETGEAR's Powerline Devices are backed by a one-year warranty and 24/7 technical support. The Powerline AV Ethernet Adapter Kit contains two Powerline AV Ethernet Adapters, an Ethernet cable, an installation guide and a set-up CD. The continuous growth of its unique devices stands as a testament to NETGEAR's commitment to provide innovative networking solutions for small and medium business as well as home users. The company's product offerings enable users to share Internet access, peripherals, files, digital media content and applications among multiple personal computers and other internet-enabled devices.

About NETGEAR:
NETGEAR® (NASDAQ: NTGR) designs technologically advanced, branded networking products that address the specific needs of small and medium business and home users. The company's product offerings enable users to share Internet access, peripherals, files, digital multimedia content and applications among multiple personal computers and other Internet-enabled devices. For more information, visit the company's Web site at www.netgear.com


More from Optics & Photonics