AdoptSMT, Market Leader for Pre-Owned SMT Assembly Equipment in Europe Will Show Its New Product Offerings at the SMT 2012 Trade Fair in Nuremberg Hall 7,102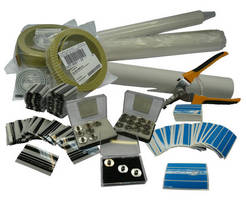 The worlds largest stockist of over 60,000 items with a continuous delivery of high quality replacement parts backed by a carefully optimised global net of proficient suppliers

Grödig near Salzburg, - AdoptSMT is ready to showcase its core business live at the SMT show in Nuremberg - the place to be, for getting the latest news about products and market trends all around SMT production. Amongst other topics we would like to draw clients' attention to the following new offerings:

Count On Tools has appointed AdoptSMT Europe as distributor for Europe - large variety of special nozzles for LEDs

AdoptSMT is now responsible for COT's complete range of replacement parts for the SMT industry including vacuum nozzles for pick and place machines. Count On Tools develops and manufactures a large variety of special nozzles for LEDs and gripper nozzles for Odd Form Components like connectors. The portfolio also includes standard nozzles with or without ceramic tips compatible to OEM nozzles. The nozzles are available for all major Pick and Place brands including Siplace, Fuji, Panasonic, Assembleon/Yamaha, Universal Instruments, Hitachi and Mydata.

Label Manufacturer Nortec Group displaying with AdoptSMT

AdoptSMT has won an important partner in the approach to broaden the offerings of consumables. Nortec's high quality Polyimide (high temperature) labels for automatic application fit perfectly with AdoptSMT's distribution and service of Hover-Davis label feeders and experience with pre-owned label applicators from manufacturer like CAB or Asys. Nortec is a leading supplier of ID solutions for harsh environment, with an approach of innovation in ID management, with total solution for the whole ID process.

AdoptSMT Group Europe and Hover-Davis Feeder Program

Siemens® Siplace® users can maximise their investment and minimise their cost in the new generation of Siplace-compatible Hover-Davis Tape Feeders, while enjoying all the proven Hover-Davis advantages, such as - smooth and vibration free stepper motor indexing assures smooth and controlled component handling - 8mm feeders cover the complete range of components including 0201's doing away with the need for both specialized "gold" and "silver" feeders. AdoptSMT Group is now also representing Hover-Davis in Hungary, Czech Republic, Slovakia and Romania as well as UK, Ireland, Slovenia, Serbia, Croatia, Macedonia and Greece.

Enhanced Product Portfolio

In Hall 7, booth 102 AdoptSMT Group will present the latest product stock of Siplace machines, Mydata systems and many more fine pitch placement machines, stencil printing machines, coating systems etc. New activities and programmes have been initiated in the recent months to round out our broad range of products and services:

New in our program are also renowned products such as Indium where AdoptSMT Group has signed a distributor agreement for Austria.

More Splicing Products available : Honouring our growing volume we can now purchase our splicing products for reduced prices and are happy to forward these savings to our customers.

New in our range of consumables: High quality premium under stencil cleaning rolls - extensive tests in-house and in cooperation with selected customers verified excellent cleaning results for all systems (wet, dry, vacuum). The anti-static rolls are highly absorbent. Standard rolls are available for printers from DEK, EKRA, Speedline/MPM, and Panasonic. Special formats are available on request.

Consultations by our experts:

With our one to one consultation we at AdoptSMT can discuss: Production equipment, availability of spare parts and even logistics services to relocate your production lines. Renting and leasing offers from AdoptSMT's portfolio as part of the Group's strategy to serve as a "one-stop shop" for all aspects of pre-owned SMT equipment.

About AdoptSMT Group:

Founded in 1991 by Erhard Hofmann in Salzburg Austria as a software company, Adopt instantly gained a reputation as an excellent source for second hand SMT equipment once they moved their scope of business to this in 1994. Since then the AdoptSMT Group has proved to be one of the fastest growing enterprises for used SMT equipment with more than 80 employees. Today they include the headquarters in Austria with more than 6500 m²; AdoptSMT Germany GmbH with 2000m² specialized on Siplace overhauling and service, AdoptSMT Polska Spóùka z o.o. with a small Siplace service facility, AdoptSMT UK Ltd with facilities in Redhill and Cumnock, Scotland and AdoptSMT Romania S.R.L. with a sales office. For more information and an overview of the large equipment offerings, please see www.AdoptSMT.com.