Adjustable Plastic Fire Extinguisher Seal carries UL approval.
Press Release Summary: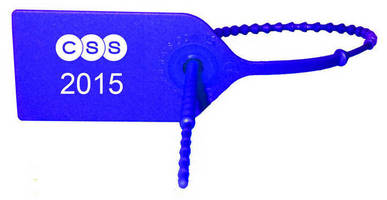 Adjustable plastic One Piece Seal (OPS) is UL-Compliant (UL 299 and CAN/ULC-5504) and approved for use as plastic security seal for fire extinguishers. To indicate prior fire extinguisher usage and need for inspection/potential refill, this single-use, tamper-evident seal is designed to be easily and irreversibly broken. Standard fire extinguisher seal is 9 in., and OPS is available in 4 additional lengths: 6, 7, 8, and 10 in. Other customizable options are available.
---
Original Press Release:

Cambridge Security Seals Unveils UL-Approved Adjustable Plastic Seal for Fire Extinguishers



"Best-in-Class" Features, Short Lead Times, and Domestic Manufacturing Propel Newly Designed Product Line



POMONA, New York -- Cambridge Security Seals (CSS), a global quality leader in tamper-resistant and loss prevention seals, announced the release of its newly designed adjustable plastic One Piece Seal (OPS).  The OPS product line is UL-Compliant (UL 299 and CAN/ULC-5504) and approved for use as a plastic security seal for fire extinguishers.



Each time a fire extinguisher is serviced or inspected, a single-use tamper-evident plastic seal is typically secured through the operating levers. In the event that the fire extinguisher is needed, the OPS is designed to be easily and irreversibly broken.  The subsequent absence of a properly functioning seal serves to indicate its usage and the need for inspection and potential refill.



The One Piece Seal features the durable construction, flexibility, and space-saving packaging that is the hallmark of CSS security products.  While the standard fire extinguisher seal is 9", the OPS is available in four additional lengths (6", 7", 8", and 10").  In addition to product length, CSS offers a wide variety of customizable options for the OPS, including color choices, sequential alphanumeric numbering and bar-coding, and a write-in box.  The OPS also features the option of an extended flag to provide a greater surface area for additional information, service company logos, or promotional copy.



Extremely short lead times for both stock and custom orders are further performance enhancements that CSS brings to the fire extinguisher seal marketplace.  Brian Lyle, Vice President of Sales & Marketing at New York-based Cambridge Security Seals, believes that the OPS offers significant benefits over existing seals in the market.



"The OPS is clearly a Best-In-Class product, from its design features, compact packaging, and enhanced performance to the lead times and myriad of customization options," explains Lyle. "Like all CSS plastic security seals, the OPS was designed in-house and all OPS seals are manufactured in the U.S. to ensure the highest quality and fastest delivery of customized products."



According to Lyle, CSS is committed to developing updated and enhanced solutions for all security seal needs.  Over the past two years, CSS has introduced a wide range of higher performance seals, including its extensive line of Heavy Duty, Medium Duty, and Light Duty Pull-Tight Seals, Twin Tote Seals, along with enhancements to the company's staple Plastic Truck Seal product line.



Elisha Tropper, CEO of Cambridge Security Seals, describes the company as focused around "customer-centric innovation" within a world-class manufacturing and development operation in the United States.  Tropper points out that "a continuous stream of improved products and expanded services have contributed to the rapid growth of CSS, and is testament to the efforts and dedication of our extraordinary employees."



Cambridge Security Seals is the fastest growing security seal manufacturer in the United States. CSS services an increasingly diverse customer base spanning a variety of industries, including fire safety, freight, logistics, distribution, trucking, retail, cash handling, airlines, rail transportation, government, pharmaceutical, food and beverage, medical, and agriculture.



About Cambridge Security Seals



Cambridge Security Seals, a privately-held enterprise headquartered in Pomona, New York, offers an extensive line of tamper evident, tamper resistant, and high-security loss prevention seals to customers across a wide range of industries. The company's 65-year legacy of dedication to uncompromising quality, dedicated customer service, and outstanding value provides a blueprint for reliability and security.



Cambridge Security Seals' commitment to technology, quality standards, environmental responsibility, and attention to detail fuels its drive to provide security-conscious customers with the products and services they demand from an industry leader.



The backbone of Cambridge Security Seals is a diversified team of technical experts and business professionals, including experienced engineering, design, production, and logistics specialists. This unique blend of management and production expertise enables the company to provide an unmatched level of value. For more information about Cambridge Security Seals, please visit http://www.cambridgeseals.com.



Contact:

Monica Feffer

845-520-4111

mfeffer@cambridgeseals.com

More from Mechanical Power Transmission