Adhesive Tapes suit assembly applications.
Press Release Summary: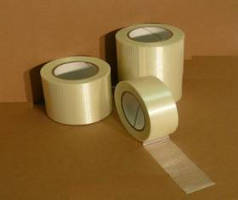 Suitable for assembly of Hexayurts, Bi-Directional Filament Tapes are made from high-strength nylon and fiberglass with filaments running lengthwise and crosswise for optimal strength and durability. Tapes are available in 3, 4, and 6 in. widths and come on 60 yard rolls.
---
Original Press Release:

Adhesive Tape - Super Strong



Here at Tape-Rite the stuff we sell is what we do. We are the specialist in specialty tapes. At Tape-Rite you can find a complete line of adhesive tapes; double coated adhesive tapes, double sided foam tape or two sided adhesive tapes. These standard tapes have a wide range of applications so much so we invite you to call us for all your application needs, we are the experts and we look forward to guiding you and finding the right tape that best suits your needs. Now featuring an all-new offering of Filament Tape.

Opening new possibilities our Bi-Directional Filament Tape is perfect for assembly of Hexayurts. These adhesive tapes are made from high strength nylon & fiberglass and are available in 3", 4" and 6" wide and comes on 60 yard long rolls. Super strong tape has filaments running lengthwise and crosswise for superior strength and durability.

Aerospace tapes are another specialty of Tape-Rite; call us for your application needs we feature; Cargo Pit Tapes Cargo Blanket Repair Tapes, Insulated Cargo Blankets, Speed Tapes/Aluminum Tapes, Water Seal Tapes, Galley Tapes, Leading Edge Tapes, Random Boots, Carpet Installation Tapes, Harness Wrap Tapes, Foam Tapes, Velcro(TM) Tapes and
Surface Protection Tapes.

GolfTape.com is also brought to you by TAPE-RITE, "THE SPECIALISTS IN SPECIALTY TAPES". So how did a tape company get involved in golf clubs? Simple, they use a lot of tape to make golf clubs. Today we supply over 200 companies with stuff for club making, fitting and repairing golf clubs, including; Standard Grip Tape, Soap & Water Grip Tape, Perforated Gripe Tape Strips, Pre-Cut Gripe Tape Strips, Non-Toxic Grip Tape Solvent, Grip Tape Dispensers, Lead Foil Tape, Impact Recorders, Club Demo Tape, Shaft Scrapers and Masking Tape/Buildup Tape.

Call us at Tape-Rite Toll-Free: 888.882.7348, Phone: 516.488.5900, Fax: 516.328.0344, or E-mail: sales@taperite.com, Or visit our website - www.TapeRite.com "The Home of Dr. Tape"

More from Machinery & Machining Tools