Adhesive Tapes offer solvent-based systems.
Press Release Summary: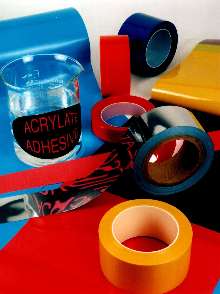 Custom engineered specialty adhesive tapes can be manufactured by applying solvent-based adhesive systems to various rigid and extensible films and laminates such as aluminum foil, LLDPE, LDPE or MDPE, PVC, polyester, and polyurethane. Tapes are acrylic-, polyurethane-, rubber-, and silicone-based and can be applied to foils and films up to 60 in. wide. Release liners can be matched to temperature and long-term aging specifications.
---
Original Press Release:

Specialty Adhesive Tapes Feature Solvent-Based Systems


Custom engineered specialty adhesive tapes that can be manufactured by applying solvent-based adhesive systems to a wide variety of rigid and extensible films, and put-up to user requirements are being introduced by Tyco Adhesives, PATCO division, of Bristol, Rhode Island.

Tyco Specialty Adhesive Tapes can be manufactured from a variety of rigid and extensible films and laminates such as aluminum foil, LLDPE, LDPE or MDPE, PVC, polyester, and polyurethane. Featuring a wide selection of standard and custom blended solvent-based pressure sensitive adhesive systems, the tapes can be supplied self-wound, with silicone coated release liners, and slit.

Developed for applications such as seaming, splicing, and protecting products during assembly, transportation, or actual use, typical adhesives for Tyco Specialty Adhesive Tapes are acrylic-, polyurethane-, rubber-, and silicone-based. They can be applied to foils and films up to 60" W with release liners matched to temperature and long-term aging specifications.

Tyco Specialty Adhesive Tapes are priced according to customer requirements. Literature, pricing, and samples are provided upon request.

For more information contact:

Tyco Adhesives, Patco Division
Diane Carosi, Product Manager
51 Ballou Blvd.
Bristol, RI 02809-0995
(800) 772-TAPE FAX (401) 253-5557
e-mail: carosid@tycoadhesives.com
www.tycoadhesives.com


Related