Adhesive Films are activated by heat and pressure.
Press Release Summary: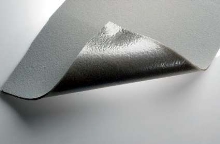 INTEGRAL Adhesive Films are dry, non-tacky films that can be activated through lamination including hot roll, belt, flame, calender, and sheet processes. Films offer UV and chemical resistance, dimensional stability, and barrier properties, as well as scratch and puncture resistance. They are available in low, intermediate, and high temperature activation for food, automotive, medical, and sound dampening applications.
---
Original Press Release:

Dielectric Polymers is Authorized Small Quantity Distributor of INTEGRAL* Adhesive Films from Dow


Holyoke, MA - July 2005 - Dielectric Polymers, Inc., a manufacturer of pressure sensitive tapes and films, has complemented its line of adhesive products with the addition of six heat activated dry films. The Dow Chemical Company, based in Midland, MI, has selected Dielectric Polymers as its distributor of INTEGRAL Adhesive Films for small quantity sales in North America based on the Company's converting capabilities and responsiveness in the marketplace.

INTEGRAL Adhesive Films are dry, non-tacky adhesive films that are activated by a combination of heat and pressure. These films can be activated through lamination including hot roll, belt, flame, calender and sheet processes. Continuous and piece molding operations are also used to apply the adhesive to various substrates.

INTEGRAL Adhesive Films offer end users performance properties such as U.V. and chemical resistance, dimensional stability, barrier properties, scratch and puncture resistance as well as strength and toughness. These heat activated dry films offer easy storage and handling in addition to design flexibility.

Dielectric Polymers carries INTEGRAL Adhesive Films in various colors and thicknesses with a variety of activation temperatures to meet specific application needs:

o INTEGRAL 801 provides adhesion at low temperatures for bonding temperature sensitive substrates such as synthetic fabrics. It is also used in refrigerator liners and as a protective film for scratch resistance. This adhesive film has FDA compliance for specific direct food applications.

o INTEGRAL 709, 821 and 933 are intermediate temperature activation films used for specialty automotive applications, as an overlay for upgrading photographs and for automotive interior trim applications, respectively.

o INTEGRAL 835 and E100 are high temperature activation films designed for bonding dissimilar substrates. INTEGRAL 835 is used in medical tape applications while E100 is used in automotive headliner lamination and bonding sound dampening materials in door panels.

Dielectric Polymers produces transfer adhesives, double coated tapes and self-wound film tapes for automotive, aerospace, electronics, graphic arts, wireless communications, biotechnology and other industrial markets.

For more information regarding the INTEGRAL Adhesive Film line offered by Dielectric Polymers, please contact Debbie Ernst at 800-628-9007, 413-532-3288 or send inquiries to info@dipoly.com. Or you can visit the Company's web site at www.dipoly.com.

For product recommendations regarding substrate adhesion or INTEGRAL technical data sheets, please click on www.dowplastics.com

*Trademark of The Dow Chemical Company

Related