Additive Metal Fabrication can build highly complex geometries.
Press Release Summary: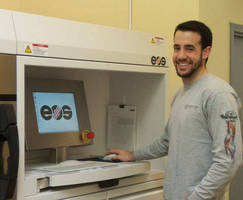 Direct Metal Laser Sintering (DMLS) involves use of 3D CAD model, whereby file is created and sent to machine's software to allow build to begin. Technician works with 3D model to properly orient geometry for part building and adds supports structure as appropriate. Once build file is completed, it is sliced into layer thickness machine will build in (20 µm thick typ) and downloaded to DMLS machine. DMLS machine uses 400 W Yb-fiber optic laser and can use most alloys.
---
Original Press Release:

TURBOCAM Offers Direct Metal Laser Sintering (DMLS)



Barrington, N.H. (U.S.A.) — TURBOCAM International has expanded their portfolio of engineering and manufacturing solutions to now offer Direct Metal Laser Sintering (DMLS).



DMLS is an additive metal fabrication technology. The process involves the use of a 3D CAD model whereby a file is created and sent to the machine's software allowing the build to begin. A technician works with this 3D model to properly orient the geometry for part building and adds supports structure as appropriate. Once this "build file" has been completed, it is "sliced" into the layer thickness the machine will build in and downloaded to the DMLS machine allowing the build to begin. The DMLS machine uses a high-powered 400 watt Yb-fiber optic laser.



Inside the build chamber area, there is a material dispensing platform and a build platform along with a re-coater blade used to move new powder over the build platform. The technology fuses metal powder into a solid part by melting it locally using the focused laser beam. Parts are built up additively layer by layer, typically using layers 20 micrometers thick. This process allows for highly complex geometries to be created directly from the 3D CAD data, fully automatically, in hours and without any tooling. DMLS is a near net-shape process, producing parts with high accuracy and detail resolution, good surface quality and excellent mechanical properties.



"We knew that the technology was out there as we were seeing the industry starting to print 3D metal parts," said Joe Gabriel, Product Development Engineer. "But, we were a bit hesitant to investigate it because of the tight tolerances needed by our clients. So, we had to qualify it, specifically to see how close they were getting. Once we realized we could get tight tolerances, we knew we had to be part of this technology."



"We received our first large order prior to the machine's arrival, so we have been off and running from day one," continues Gabriel. "TURBOCAM can now fabricate parts in aluminum, steel, titanium, and Inconel."



DMLS has many benefits over traditional manufacturing techniques. The ability to quickly produce a unique part is the most obvious because no special tooling is required and parts can be built in a matter of hours. Additionally, DMLS allows for more rigorous testing of prototypes. Since DMLS can use most alloys, prototypes can now be functional hardware made out of the same material as production components.



DMLS is also one of the few additive manufacturing technologies being used in production. Since the components are built layer by layer, it is possible to design internal features and passages that could not be cast or otherwise machined. Complex geometries and assemblies with multiple components can be simplified to fewer parts with a more cost effective assembly. DMLS does not require special tooling like castings, so it is convenient for short production runs.



"We are excited about the future," said Jonathan Bicknell, TURBOCAM Energy Solutions General Manager. "Once we develop a process and are building consistent parts over and over, we can replace the roughing process we use on components. The material that is wasted by roughing will be saved by building the parts here, and that means cost savings."



TURBOCAM International started in Dover, NH in the same building that our DMLS Lab now occupies.  "The company started here in this bay, and it is exciting to develop this technology, which will be part of the company's future," said Natalie Alford, Product Development Engineer.

More from Electronic Components & Devices