Additive allows laser marking of transparent products.
Press Release Summary: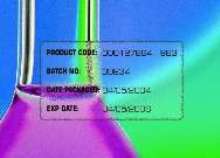 When dissolved into solvent-based coatings, DataLase Clear enables images to be transferred into transparent media via laser without interfering with translucency of substrate. Additive is non-hazardous, and low power laser output prevents burning of substrate. DataLase Clear is compatible with wide range of binder systems and ketonic, aromatic, and ester solvents. Additive is suitable for laser coding of transparent films and plastics on packaging.
---
Original Press Release:

DataLase Clear, The Definitive Solution For Laser-Marking Transparent Products.


(WIDNES, CHESHIRE - OCTOBER 2004) Following the highly successful launch of DataLase earlier this year, Colour-change specialist, Sherwood Technology Limited announces the launch of its innovative new product, DataLase Clear. As an additive that can be dissolved into solvent based coatings, this significant new development provides industries with an innovative technology that allows images to be marked directly into transparent materials. By combining chemistry, substrate conversion and laser energy, DataLase Clear provides an original and high speed solution for coding, marking and printing. Consequently, it offers infinite possibilities for a wide range of packaging, printing and manufacturing applications.

DataLase Clear enables images to be transferred into transparent media via a laser without interfering with the translucency of the substrate. As well as printing high contrast images rapidly whilst using a low power supply, DataLase Clear offers higher fidelity imaging compared to traditional coding and marking processes such as thermal transfer and inkjet. More importantly, because this process does not require the use of inkjet fluid or transfer ribbons, there is very little maintenance involved. This additive will be especially useful for the laser coding of transparent films and plastics on packaging, as well as appealing to cosmetic, pharmaceutical and food and beverage companies.

The ability to form images directly between the layers of a clear laminate film, or self adhesive label whilst retaining the integrity of the uppermost layer is a critically important aspect of the technology; Absolute image permanence and resistance to abrasion are guaranteed - a significant advantage over more traditional surface printing methods. Furthermore, the embedding of the laser responsive DataLase Clear coating within a laminate construction can bestow a number of overt and covert security features as valuable brand protection devices.

The process is carried out either by doping the additive directly into an existing coating or by a separate coating operation. This creates a Laser imagable transparent layer within the product. When the coated material comes into contact with the output from a low power CO2 laser, it changes from clear to black, producing a high contrast indelible image. The additive is non-hazardous, and the low power laser output prevents burning of the substrate. Furthermore, DataLase Clear is compatible with a wide range of binder systems and ketonic, aromatic, and ester solvents.

There are a number of key benefits to using DataLase Clear :
o Environmental - no production line consumables and low emissions
o Productivity - faster line speeds
o Applicability - compatibility with most substrates and conversion processes
o Quality - better image resolution and marking
o Stability - Permanent, abrasion resistance
o Security - overt and covert Brand Protection potential

Steve Kelly, Managing Director of Sherwood Technology Ltd. says, "We are extremely excited by the huge potential offered by this new additive. In the past, manufacturers of transparent products have had few viable options when it comes to the marking and coding of their materials. DataLase Clear has revolutionised this process."

The DataLase Clear technology will be available through a series of application licensing agreements and strategic partnerships.

More information about Sherwood Technology is available at www.sherwoodtech.com or by e-mail info@sherwoodtech.com

More from Controls & Controllers