Additive Manufacturing Services
Adding New Product Lines Solidifies Quickparts as the "Home Depot" for Custom Parts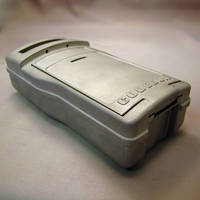 Atlanta, GA - June 16, 2009 -- Quickparts (http://www.quickparts.com), one of North America's largest providers of custom designed parts, from rapid prototyping to production parts, today announced that they will be offering both Plaster and Metal Casting to their already extensive product line portfolio.

Rapid Prototyping (RP) is often used with plaster molding processes to circumvent or transition to the production of hard tooling. This is accomplished by creating a rubber mold from an RP-generated pattern. The rubber mold then is used to create plaster molds for casting production. Plaster casting often serves as a precursor to die casting production while the hard tool is being made.

Die casting, a form of metal casting, is the process of forcing molten metal under high pressure into mold cavities. Most die castings are made from non-ferrous metals, specifically aluminum, zinc, copper, and magnesium, although ferrous metal die castings are possible. The die casting method is especially suited for applications where large quantities of small to medium sized parts are needed with good detail, a fine surface quality and dimensional consistency. Die casting technology has been advancing rapidly during the past twenty years, particularly in the last decade.

"Quickparts is excited about continuing our mission of making it easy for our customers to get custom designed parts by offering two additional solutions, Metal and Plaster Casting. Understanding metal casting fundamentals will aid product designers in making design decisions early in the product development process that can have the maximum effect on cost reduction and performance improvement," said Ron Hollis, Quickparts, CEO and President. "The addition of both the Plaster and Metal Casting lines, to our already extensive product lines, processes and materials, allows us to continue to be The Single Source For Custom Parts for the product development community," he continued.

About Quickparts

Quickparts provides custom manufacturing services for engineers and designers who want to create plastic and metal parts from 3D CAD (computer-aided design) models. Using patented QuickQuote technology, Quickparts is able to provide product designers with an 'instant online quote' for the manufacturing of their custom parts from prototype to production.

Quickparts custom manufacturing services include: Rapid Prototypes (SLA, SLS, FDM, PolyJet), Cast Urethanes, Injection Mold Tooling and Parts, Sheet Metal Parts, CNC Machined Parts, and Plaster and Metal Casting.

For more information about Quickparts, visit www.quickparts.com or call 770.901.3200.


More from Sensors, Monitors & Transducers