Adchem Corporation Covers a Broad Range of Foam Bonding Needs with 3175M & 5944 Double-Coated Tapes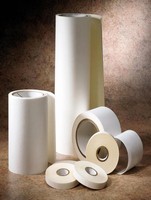 Adchem Corporation, a leading manufacturer of high performance film and foam bonding pressure-sensitive adhesive tape systems, offers two double coated tape systems that provide foam tearing bonds to 90% of tested urethanes, neoprene, and polyethylene foams, as well as excellent bond strength to most corks and rubber materials. The broad-spectrum foam bonding tapes, 3175M double-coated aggressive rubber polyester film tape systems and the 5944M double-coated rubber and acrylic tape systems, are available in several widths and liner options to meet most fabricating requirements.

Designed to bond to most foam and gasket materials, the 3175M tape system is ideal for automotive, construction, electronics, foam fabricating, industrial and sound attenuation applications. 3175M consists of rubber-based adhesive on the exposed side that bonds to a wide variety of polyurethane and polyethylene foams, felt, rubber, sponge, cork, abrasive and gasket materials.

Combining the benefits of both rubber and acrylic adhesive technologies, 5944M is a versatile bonding tape designed for demanding foam fabrication applications, insulation and sound reduction requirements in equipment, transportation and appliance industries. 5944M is designed with a high-tack, high-peel, moderate shear, rubber-based adhesive coating on the liner side. The exposed side of 5944M is coated with a high-tack, low-shear acrylic adhesive.

Adchem publishes foam bonding charts for 10 of the major U.S. foam manufacturers to assist design engineers in the selection of appropriate pressure sensitive tape systems. Adchem provides more than 50 unique adhesive solutions for customers' most demanding foam bonding needs.

About Adchem Corporation
Adchem, an ISO 9001-2000 certified and A2LA accredited company, manufactures high performance film and foam bonding pressure-sensitive and heat-activated adhesive tape systems, including double-coated papers, films, tissues, foams and fabrics; transfer tapes; one-side coated products and other custom-coated specialty products. Our 100% solids adhesives, solvent and water based acrylics and rubber adhesives are used in automotive, construction, electronics, graphic arts, medical ,general industrial, sound and vibration damping and transportation applications.

For additional information and samples, please contact Adchem Corporation, 1852 Old Country Road, Riverhead, NY 11901 Phone: (631) 727-6000 Fax: (631) 727-6010 or our website at www.adchem.com .


More from Test & Measurement