ADC/DAC Module offers 16-bit data acquisition at 250 MHz.
Press Release Summary: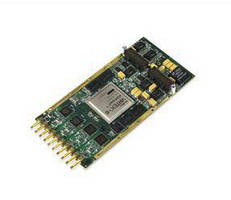 Featuring Xilinx® Virtex(TM)-6 LX240T FPGA processor, Model ICS-1572A acts as link between analog sensors and digital computing. Transceiver XMC board provides two 16-bit ADCs sampling synchronously at frequencies up to 250 MHz and two 16-bit DACs at up to 500 MHz. To allow for under-sampling applications, ADC input pass band is 4.5-800 MHz. Module is suitable for deployment in radar, signals intelligence, communications, and test and measurement applications.
---
Original Press Release:

New High Performance ADC/DAC Module from GE Is Compact, Flexible and Cost-Effective



ICS-1572A uses latest Xilinx® Virtex(TM)-6 for unprecedented throughput in radar, signals intelligence, communications, and test and measurement applications

CHARLOTTESVILLE, VA - GE Intelligent Platforms today announced the ICS-1572A ADC/DAC (Analog-Digital Converter/Digital-Analog Converter) transceiver XMC module. Designed to act as a powerful link between the analog world of sensors and the digital world of computing, it can be deployed in the most demanding radar, signals intelligence, communications and test and measurement applications. The new board features 16-bit data acquisition at up to 250MHz and the latest Xilinx® Virtex(TM)-6 FPGA processor to deliver unprecedented performance in a cost-effective, compact, lightweight form factor.

The ICS-1572A - which builds on the legacy of GE's industry-leading digital receiver families - delivers a number of important customer advantages, including the ability to perform faster sweeps when scanning for spectral activity; the opportunity to use lower cost analog RF equipment; the capability to reduce the cost of the system back-end processing engine; the facility to use electronic 'steering' rather than physical array steering; and the option of using existing arrays for multiple purposes.

Beyond this: not only does the XMC form factor allow for more compact solutions - it also allows for higher throughput to the host memory, which translates into the ability to send higher bandwidth signals for downstream processing. The higher sampling rates allow for higher instantaneous bandwidth to be captured, therefore meeting the challenging frequency coverage requirements of surveillance systems. The use of high speed DDR3 memory allows for deep waveform storage and tolerates the interrupt latency associated with non-real time operating systems.

"The ICS-1572A is a compelling solution in a number of ways," said Dan Veenstra, Product Manager at GE Intelligent Platforms. "Current 16-bit solutions are typically limited to frequencies of 200MHz or less, whereas the ICS-1572A delivers speeds of up to 250MHz. The ICS-1572A also uses the latest generation FPGA from Xilinx, providing significantly more processing power than products based on earlier generations and reducing the load on the back-end processing engine. These advantages, coupled with its use of the latest in ADC/DAC technology and the flexibility of the XMC form factor, will make it extremely attractive to many organizations."

The ICS-1572A provides two 16-bit ADCs sampling synchronously at frequencies up to 250 MHz and two 16-bit DACs at up to 500 MHz. The ADC input pass band is 4.5 to 800 MHz (3dB) to allow for under-sampling applications.

A Xilinx Virtex-6 LX240T FPGA is provided for user-defined signal processing functions, giving greater capacity than previous generations; other Virtex-6 devices are available as options. The Virtex-6 device also provides a PCI Express® interface to the host system. Other protocols, such as Serial RapidIO(TM) can be provided on request. The FPGA provides a powerful signal processing capability that can be loaded with standard functions such as wideband DDC, FFT and time stamping, or programmed by the user for any required function.

About GE Intelligent Platforms

GE Intelligent Platforms is an experienced high-performance technology company and a global provider of software, hardware, services, and expertise in automation and embedded computing. We offer a unique foundation of agile and reliable technology providing customers a sustainable competitive advantage in the industries they serve, including energy, oil & gas water, consumer packaged goods, government & defense, and telecommunications. GE Intelligent Platforms is headquartered in Charlottesville, VA.

For more information, visit www.ge-ip.com.

For more information:

http://defense.ge-ip.com/products/family/sensor-processing

http://defense.ge-ip.com/products/family/software-defined-radio

For more technical information:
www.ge-ip.com/admin/products/detail/ProductID/3597

Xilinx is a registered trademark, and Virtex is a trademark, of Xilinx Inc. PCI Express is a registered trademark of PCI-SIG. RapidIO is a registered trademark of the RapidIO Trade Association. All other trademarks are the property of their respective owners

More from Communication Systems & Equipment