Adapters allow pumps to work with compressors.
Press Release Summary: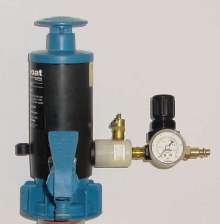 BillyGoat(TM) Adapters extend GoatThroat(TM) Pumps by delivering constant flow up to 4.5 gpm with working pressure of 2 psi. They offer 3 hookup options as well as 2 external pressure safety valves and pressure regulator. Adapters can transfer fluids from several containers to locations 5-60 ft away. They provide vertical lift of over 20 ft at 6 psi and can completely empty 55-gal barrel. Units may use sprayer wands to apply disinfectant and cleaning agents.
---
Original Press Release:

Goatthroat(TM) Launches Billygoat(TM) Adapters for Compressors


Liquid Transfer And Delivery Even Easier

NEW YORK, NY (October 2003)
The makers of the GoatThroat(TM) Pump, long valued for its innovative design combined with a simple, safe, and clean hand-operated fluid delivery system, extends its product line by launching BillyGoat(TM) adapters, another innovative advancement to the industrial marketplace.

These small, versatile pumps can now safely be used with shop air, compressors or bottled compressed air in the shop, in the field, anywhere ---- anytime. The new BillyGoat(TM) adapters work with all GoatThroat(TM) Pumps.

"The new BillyGoat(TM) adapter revolutionizes fluid delivery and transfer for all industries by offering clean, safe and practical handling of all industrial fluids. This versatile adapter extends GoatThroat(TM) Pumps by delivering constant flow of up to 4.5 gallon per minute with a working pressure of only 2PSI." said Nancy Westcott, President & CEO of Westcott Distribution Inc.

Featuring 3 hookup options as well as two external pressure
safety valves and a pressure regulator, the new compressor setup delivers fluids at up to 4.5 gallons per minute with a working pressure of only 2PSI.

This revolutionary development will make it even easier to safely:
o Transfer fluids from several containers;
o Deliver fluids to locations from 5' - 60' away;
o Vertical lift of over 20' (at 6PSI);
o Empty a 55 gallon barrel completely;
o Use sprayer wands to apply disinfectant and cleaning agents;
o Decant and apply cleaners and degreasing agents.

About GoatThroat(TM) GoatThroat(TM) Pumps (www.GoatThroat.com) are small, versatile, hand-operated pumps safe for use with over 600 liquids - including the most commonly used industrial chemicals, fuels, fertilizers, and even the most aggressive acids, caustics
and solvents. Containers remain upright, so there is no extra handling required for drums and no chance for accidental spills. Further, unlike costly electric pumps, GoatThroat(TM) Pumps are simple, safe and inexpensive. A few strokes of the plunger can pressurize any container from 2-gallon jugs to 55-gallon drums. A drip-proof faucet dispenses small amounts or allows a steady flow. Exceptional durability and unique design have earned the highest honor GoatThroat(TM) Pumps at the Geneva International Invention Exhibition, and won praise from users in many fields including utilities, agriculture, automotive, research laboratories, chemical distribution, cleaning, aeronautics, hospitals and manufacturing of paint, paper, resins, tools and jewelry. OEM's such as 3M regularly recommend this pump for use with several of their high performance fluids.

About Westcott Distribution Inc.
WDI, a New York State Corporation, was founded in 2000 with a vision to market and sell this premier, polypropylene pump product

For more information, please contact:
Nancy Westcott
WESTCOTT DISTRIBUTION INC
646.486.3636
nwestcott@GoatThroat.com

More from Laboratory and Research Supplies and Equipment